Crater Lake!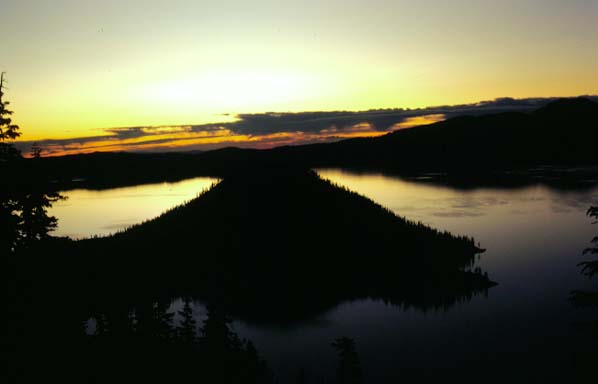 Sunrise Over Wizard Island
We got up about 5AM and Brenda perked coffee in the restroom while I shaved. We drove up to the rim of Crater Lake for the sunrise. Brenda had asked the ranger at the campfire about places to view it and he had said the Lodge was not the best place since there was a mountain at the sunrise point. He suggested Wizard Island overlook so we drove around there.
The sunrise was very beautiful over the lake - but of course you had dark water. We watched until the sun was up and then woke the boys and had breakfast there. After breakfast the boys played around, feeding chipmunks, and Mark saw a larger animal - about hedgehog size, golden in color.
We returned to the lodge area for a little while and looked at the lake - it was pretty, but you didn't get the deep blue color with the sun coming across the lake at a shallow angle. I was glad we had reached that western shore point in the late afternoon - the color was exquisite then. August 17, 1982.
Evergreens Silhouetted in Sunrise
August 16, 1982.
Syrphid Fly and Skyrocket Gilia

In this fortunate shot, I captured a syrphid fly in mid flight approaching the skyrocket gilia (Gilia Aggregata).

After we had viewed the sunrise, Mark and I went around a beautiful loop trail near the park headquarters where many types of wildflowers had been identified along a clear small stream and a meadow. August 17, 1982.
Syrphid Fly and Skyrocket Gilia
In this fortunate shot, I captured a syrphid fly in mid flight approaching the skyrocket gilia (Gilia Aggregata). This is an excerpt from the previous picture.

After we had viewed the sunrise, Mark and I went around a beautiful loop trail near the park headquarters where many types of wildflowers had been identified along a clear small stream and a meadow. August 17, 1982.

cralak823320