Brenda's Recollection of Bonnie's Birth
1944
Bonita Darlene Mason was born on January 15, 1944. Brenda only remembers backing up to a wall in the living room and watching the ambulance bring Mom and Bonnie into the house. "We were living on Bankhead Highway at Addy Street. Mom told us many times that I came over to the bed and said "Let me see that thing!" I was 29 months old. "
| | |
| --- | --- |
| | Brenda and Wayne Ivey clowning around in the yard. The date is based on the guess that Brenda is 3 and Wayne 4. |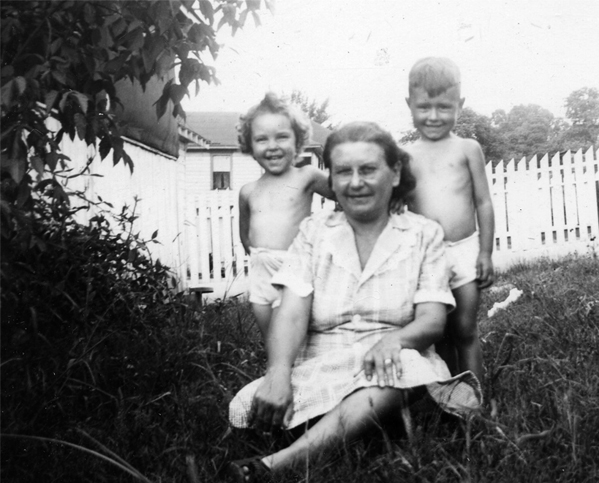 Brenda and Wayne with Granny Izora Dawson.
Brenda and Wayne with Marjorie, Uncle Buford, Aunt Adeline. Buford Gardner was the brother of J. T. Daniel and they were the sons of Granny Izora Dawson's sister Ruth, who died when the boys were young.
Katherine Dawson and Bob White. Dated 1944. That appears to be Wayne Ivey on the porch, age 4. That is the 981 Bankhead Hwy house where the family lived during World War II.

Bob White was a friend of Katherine and the whole family. He was a high union official. He died in the 50's but his wife, Sally White , was known to the children as Aunt Sally.
Brenda recalls that after our car accident in 1961, Aunt Sally came to visit her at Georgia Baptist Hospital and was told that only family could visit at that time. She said, "I am family. I'm her Aunt Sally." and they let her in. Brenda recalls that we had hamburgers with Aunt Katherine and Aunt Sally during that time period.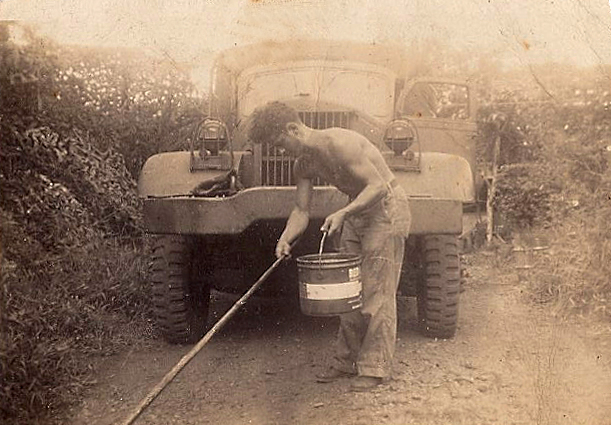 Albert Ivey in the Phillipines, World War II.