Granny Peddicord's Birthday
1946
Granny Peddicord's 87th birthday in 1946 brought the family together. This includes Brenda's Granny Dawson, the daughter of Granny Peddicord. Then Brenda's Mother, Marjorie and her two sisters, Katherine and Adeline, and her brother Roy. Cecil Johnson is Granny Dawson's brother.
Granny Peddicord was born October 3, 1859. Her mother and dad survived the Trail of Tears (1838-1839) from Oklahoma and settled in Tracy City, Tennessee. Our understanding is that she was fullblood Seminole indian. Brenda's recollection is that she died when Brenda was a young child. Our records show her date of death as January 2, 1948. She had five sisters (Mollie, Elizabeth, Minerva, Sally, and Paralee) and three brothers (Abe, John and Joe). Minerva, Sally and Paralee married brothers.
Granny Peddicord had first married Frank Johnson, and that is the blood lineage to Brenda. Granny Dawson and Cecil Johnson were his children. Brenda remembers going to the funeral home when Granny Peddicord died in 1948. So Brenda is 1/8 of either Cherokee or Seminole, that is still an uncertainty. But we thought only the Cherokee were involved in the Trail of Tears.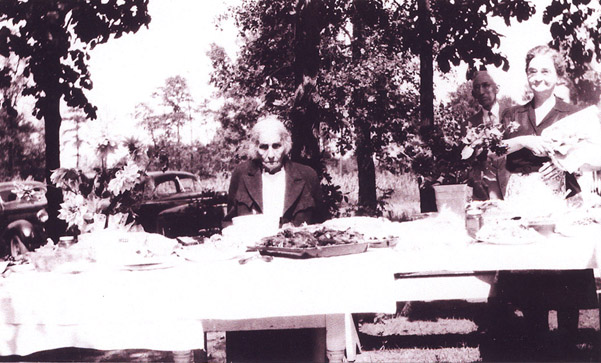 This picture from Wayne Ivey.
We have not identified the couple with her, but this is perhaps our clearest photo of Granny Peddicord on this occasion when she was the guest of honor.
This is a young picture of Frank Johnson, Granny Peddicord's first husband and the father of Izora Johnson Dawson, Cecil Johnson and Jenny Johnson. His legal name is noted as Francis Johnson in some locations. He is Brenda's maternal great-grandfather and is native American like Granny Peddicord according to some sources. Others say he was not Native-American at all but married her off the reservation. Yet another opinion was that his mother was Native-American but not his father. We don't know.

This picture must date to about 1910.

Copied this back to other pictures of him.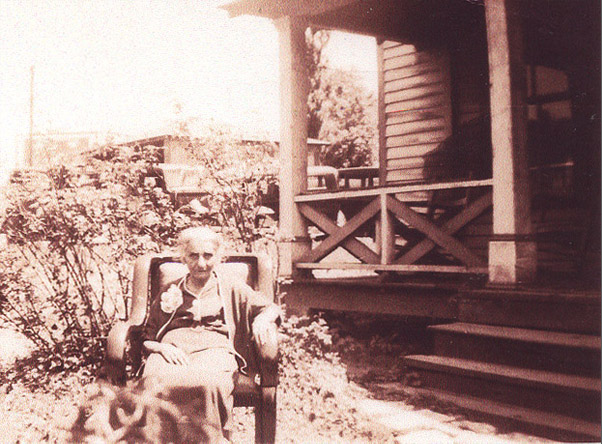 This picture from Wayne is identified as Grandma Peddicord's 100th birthday celebration at Homewood, Alabama at the Sullivan's house. But if the date of 1946 is correct, it is her 87th birthday.
This is Tollie and Ethel Sullivan who were good family friends in Birmingham, living close to the Peddicords. Brenda remembers that they moved to Panama City and bought a motel which she thinks they named "The Bama" or "Bama on the Beach".

This picture was obtained from Carol Dawson Jones and was dated October 5, 1947. It was also labeled "Grannie's birthday", which we presume to be Grannie Peddicord.

So it may be that the 1947 date is correct for all this celebration, and if so it would have been her 88th birthday.
Walter Kersey and Jennie, Cecil and Lula Johnson with Granny Peddicord.
| | |
| --- | --- |
| From the dress and setting, this rare color picture was on the same occasion. | |
Bonnie and Brenda at the house on Bankhead and Addy Street in Atlanta. Taking the date to be 1946, Bonnie would be 3 and Brenda 5. They lived there during World War II, all together with none of the men present. Living in the house were Granny Dawson, Marjorie, Brenda and Bonnie (who was born while they were living there), Adeline and Wayne. Brenda remembers Bonnie coming home from the hospital to that house.

Marjorie was divorced from Clyde Mason. Katherine introduced Marjorie to Herbert Duncan and they married during this period, in February of 1946. Brenda remembers the wedding, but not much about living on Bankhead before moving out to Austell.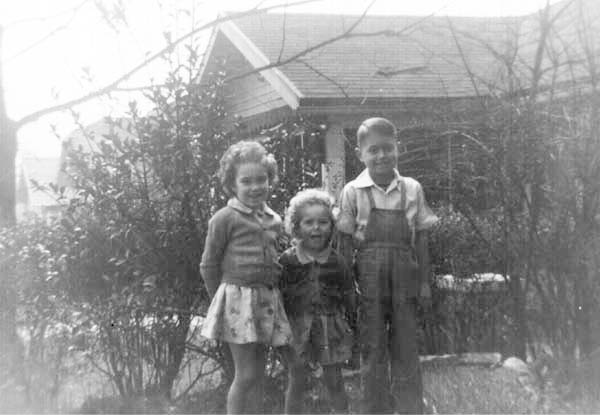 Brenda, Bonnie and Wayne at Aunt Katherine's house on Simmons Street just off Bankhead in Atlanta. Simmmons Street was across Bankhead and down a couple of houses - Aunt Katherine's house was close enough for the kids to walk to it. Brenda and Bonnie had just had perms from their Aunt Katherine, who was a beautician. The house shown is Aunt Katherine's neighbor's house. Katherine's husband, Ralph Hayes, was also away in the armed services.
| | |
| --- | --- |
| This is the location of Addie Street with the street names of 2011. The 278 was Bankhead Highway in those days but is now Hollowell Parkway. The house was on the corner of Addie Street and Bankhead Highway, facing Bankhead. | |
This picture of Wayne, his mother Adeline Ivey, and Bonnie was taken on the same day as the above photo.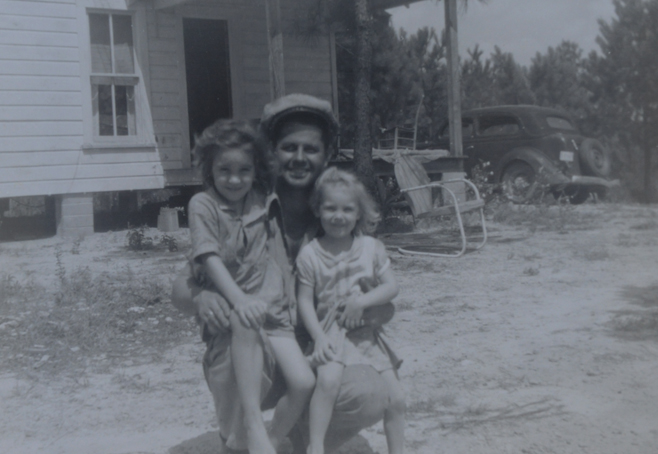 Brenda and Bonnie sit on the knees of Uncle Albert Ivey. This was fairly soon after the family moved to this frame house on River Road in Austell. This was after Brenda's Mother, Marjorie married Herbert Duncan in February. Probably the move was made in June or July of 1946. Sherry was born in November after the move.
Granny Duncan by their house. Aunt Eunice Huckeba with young daughter Linda. This house was on Felton Lane. Mr James Freeman Duncan was a tenant farmer for Mr. Felton.
| | |
| --- | --- |
| | Dorothy Jean Duncan with young Martha Ann Huckeba above. In the background is Herb's 1940 Ford and the free-running pigs in the yard of Granny Duncan's house. Dorothy Jean says this house was on Felton Lane. |
Mr. Duncan was a tenant farmer for Mr. Felton and lived in this house during this time. Later they moved to one of Doc Bishop's houses, and then to the house on Queensferry Road.
Note the pigs running free in the yard.
Brenda's recollection was that they visited Granddaddy Duncan's on Easter Sunday of 1946, before they made the move out to the Hillcrest Drive house. Bonnie was investigating Granddaddy Duncan's pigs.
| | |
| --- | --- |
| | Bonnie with Herb in their swimming hole in Sweetwater Creek near where Old Alabama Road crosses it now, just off Maxham Road. Below, Aunt Katherine enjoys her swim. Brenda's recollection is that this is where they usually went to swim in the Sweetwater. |
| | |
| --- | --- |
| | Marjorie and Herbert Duncan. Both these pictures were labeled 1946. |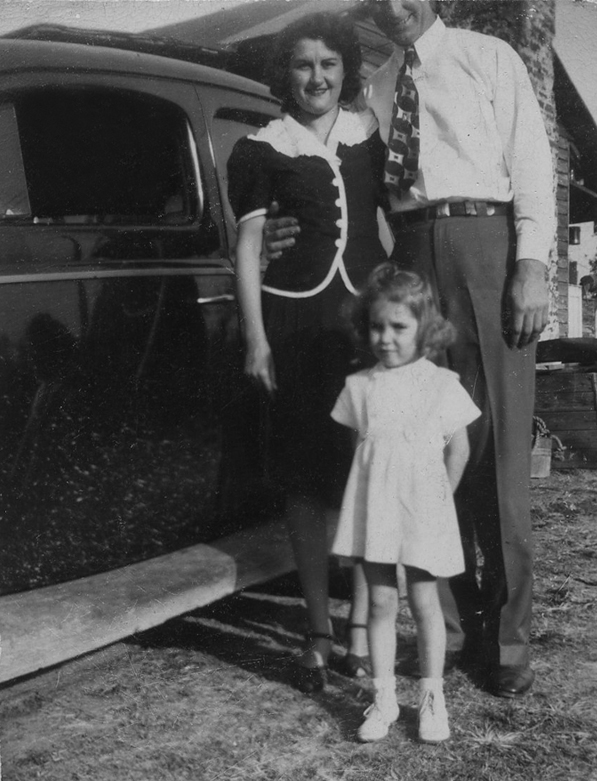 Marjorie and Herbert Duncan and Brenda. All three of these pictures may have been on the same day, and they may have been on the occasion of Marjorie and Herbert's marriage, which was in the spring of 1946. But they were not labeled as such. Anyway, they were close to the time of the marriage.