Duncan Family Album Pictures
1957
| | |
| --- | --- |
| Brenda with Merle Parrot in July of 1957 at Camp Glenn in Brunswick, Georgia. Brenda and family lived in College Park that year and went to Welcome All Baptist Church in the Red Oak community. She went to the GA camp at Camp Glenn from there. This was the year after they had sold the frame house on River Road and were preparing to build the brick house off Hillcrest Drive. Brenda attended the 10th grade at Campbell at Fairburn. She got to know Betty there who became Henry Field's wife. | |
| | |
| --- | --- |
| | Herb in the surf with the girls in summer of 1957. Bonnie, Brenda and Sherry. |
| | |
| --- | --- |
| | Brenda in October of 1957. Note the clothes on the clothesline. This is in the yard of the frame house on River Road which they had sold the year before. They moved back out and rented the house from the folks they had sold it to so that they could oversee the construction of the new house just down the hill from it. |
The Duncan Girls
Brenda (age 16) , Sherry (age 11), Bonnie (age 13) with Denise (age 5) in the front yard of the house on River Road. It was on a Sunday in October, and they were dressed up, so Mama took a picture.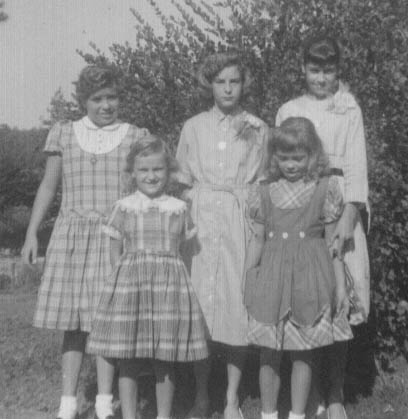 Brenda took this picture, also in October of 1957. Denise is left front, and Bonnie and Sherry center and right back. The other two girls were daughters of one of Herb's friends who had come to go to church with them.
| | |
| --- | --- |
| | A picture shared by Wayne Ivey. Uncle Roy Dawson, Jimmy Brown, Albert Ivey in the Ivey's house on Bishop Circle in Austell. Wayne's guess is 1957 or 58. |
James Wesley Dawson with Carol Sue and wife Mary Dawson. This is Brenda's Granddaddy Dawson, and she remembers visiting with him in Birmingham. He was already divorced from Granny Izora Dawson when Brenda was born.
This was taken in the Duncan back yard. When they came over from Birmingham to visit, Aunt Katherine and Adeline's family would come out.
Brenda remembers that Mary Dawson was born in Lebanon. This picture was obtained from Carol Dawson Jones.
This picture came from Carol Sue Dawson Jones, shown in center with parents James Wesley and Mary Dawson. Date is a guess, just put with the one above which we had put at 1957.