Rod to Hawaii for Summer Missions
1959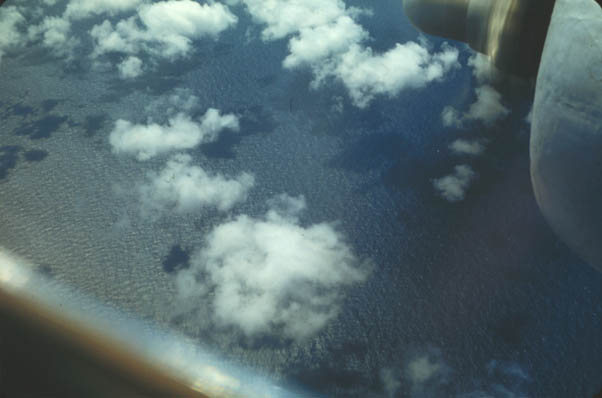 Having never seen the ocean before, I now found myself on a propeller powered DC6B, headed over the Pacific Ocean to Hawaii. Until a few days ago, I had never been on a commercial aircraft. I had ridden with Jimmy Boggs in his crop-duster plane, but getting on a commercial airplane and flying to Chicago's Midway airport and then to San Francisco had been an entirely new experience. Due to some kind of problem, we had to then ridden a bus to Los Angeles to take the plane out to Honolulu. The flight took 9 hours from Los Angeles, and I was absolutely mesmerized by the ocean all the way. The deep blue and the puffy white clouds below us were incredibly beautiful to me.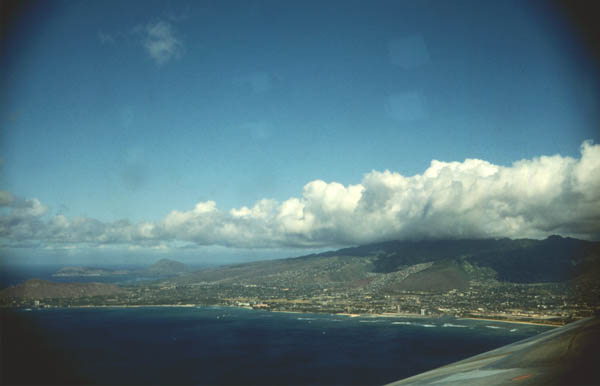 The approach to Oahu was magical to me. It was as close to paradise as anything I had ever seen. For a farm boy from Arkansas who had never been west of Arkansas, this was entering an entirely different world.
BSU Summer Missionaries to Hawaii, 1959
From all over the continental United States we converged on Honolulu, a part of the remarkable Baptist Student Union summer missions initiative. BSUs in colleges and universities all over the country contributed to placing summer missionaries in the US and at some international locations.
Back row, L-R: Dorothy, Kansas; --Tennessee; Walker Douglas, Washington; Rod Nave, Georgia; Don Reavis, Texas; Jim Fugate, Kentucky; Vic Kimsey, Oregon; Jean Grisham, New Mexico; - , Mississippi; Jay Lowe, Tennessee.
Front row, L-R: Windy Burke, Arkansas; Gayle Brian, California; Rita Edwards, Florida; Ann Gross, California; Elsie Honeycutt, Louisiana; Betsy LeBleu, Texas; Danny Yeary, Texas.
The summer missionary contingent at the Baptist Assembly, Camp Puu Kahea, before being dispersed to our assignments on the islands.
| | |
| --- | --- |
| | Rita Edwards from Florida and Rod on the grounds of Camp Puu Kahea, decked out in muu-muu and aloha shirt. |
Camp Puukahea had a large building for conferences, but we met this week in the tent shown above.
| | |
| --- | --- |
| | The Baptist Student Union headquarters in Honolulu was in this impressive house in a beautiful setting. |
| | |
| --- | --- |
| We paid a brief visit to famous Waikiki Beach and saw canoers in the surf. | |
| | |
| --- | --- |
| | I had expected beautiful flowers, but I was amazed at the number of flowering trees in Honolulu. Almost every tree was a huge bouquet! |
| | |
| --- | --- |
| | This view of Honolulu and Diamond Head was taken from the memorial cemetary atop another peak. |
We visited this ancient site on Oahu.
| | |
| --- | --- |
| We did get to do a little sightseeing on Oahu, and one of the close-by attractions was "blowhole", a particular configuration in the reef at the shore where the wave action blew water to an amazing height. | |
At the end of the first week at Puu Kahea, the group had a picnic at Hanauma Bay near Honolulu. Hanauma Bay is a beautiful bowl-shaped bay apparently formed by an opened crater. The palm trees and beach made it an idyllic place for our celebration event.
Index
1959