Kauai
1959
| | |
| --- | --- |
| | At the end of the inspiring week at Puukahea near Honolulu and around Oahu, the summer missions group was divided into pairs for assignment to the different locations in the Islands. Elsie Honeycutt and I were assigned to Kauai for Vacation Bible Schools in Waimea and Lihue. We boarded a small prop plane and headed for the beautiful garden island. |
Kalalau Valley
When I walked up to the edge to look down into the Kalalau Valley and to the sea, it was the most dramatic sight I had ever seen. I must have stood there with my mouth open - I never dreamed something could be so beautiful. I had been working with the children of Waimea Baptist Church in their summer camp up on the mountain, and had been asked to drive some of the children up to the lookout. I was a bit harried by the process, and by the old Volkswagen bus which wouldn't go into low gear unless you came to a dead stop. So I was unprepared for something of such great beauty. I wondered about the white specks in the sea until it sunk in that we were so high above the ocean that the breakers looked like tiny white streaks. This remains one of the half dozen most dramatic landscapes I have ever seen.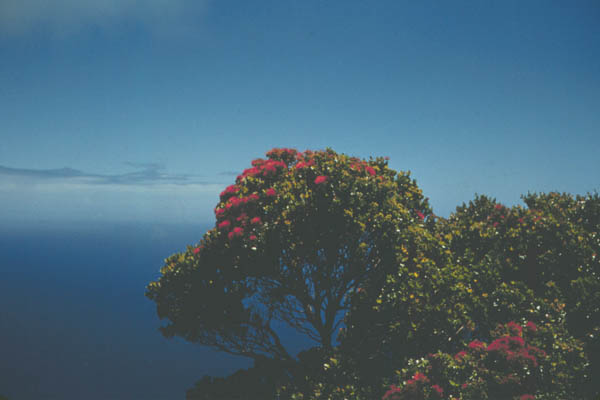 This wonderful crimson bush sat on the side of the precipice leading to the Kalalau Valley. It's crimson beauty was enhanced by an equally crimson bird flitting among its branches.
On the way up to the camp near the Kalalau lookout, we passed Waimea Canyon. We stopped for a closer look at it on the way down. Referred to by the locals as "Little Grand Canyon", it was a remarkable sight. There is an amazing variety of terrain on this small island.
Hanalei Valley
The lush green Hanalei Valley was on the other end of the island from us. The patched fields were irrigated for the growing of taro from which the poi was made. I now associate the valley with the "Puff the Magic Dragon" song.
Menehune Pond
Menehune Pond was another favorite viewpoint, with tales of the tiny people who in Hawaiian legend built the pond.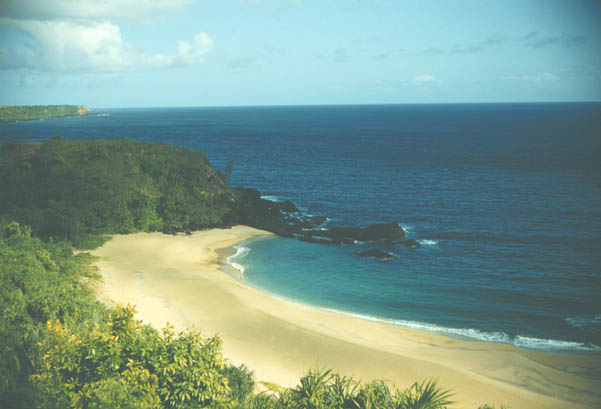 Lumahai Beach
This was the most dramatic beach we saw on Kauai. It's excitement was enhanced by all the stories we heard about it being a major location for the filming of the movie South Pacific. We had a memorable swim from a nearby pier which also figured in the filming. I vividly remember diving off that pier, about 6 or 7 feet off the water, and seeing the crystal clear water, the sandy bottom, and fish all around as I dove.