Kauai
1959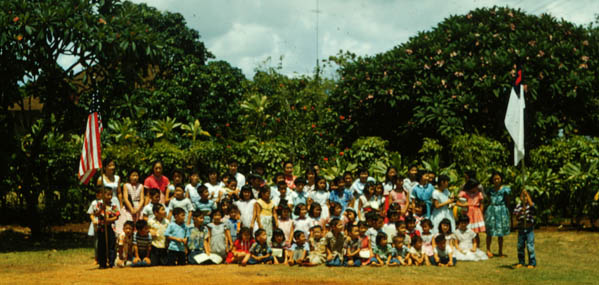 This is a group picture of the Vacation Bible School at the Lihue church. Rod, Elsie Honeycutt, and Joyce Shimada worked with the pastor and his wife, Kikuo and Laura Matsukara in the Bible School. Laura is at the back center of the group. At left back is one of the teen-aged girls who helped with the Bible School. We saw her when we went back to Lihue over 25 years later.
One of the neat things about the Lihue church was that it was within walking distance of working pineapple fields. We were able to pick ripe pineapple, and were amazed at how differently it tasted than the pineapples we bought in stores in the continental U.S.
One of the amazing sights to us was the decoration of graves in the local cemetary. We were told of some of the religious traditions from Japan which were involved in this practice.