Heather on a Wales Hillside
August 21, 1967
It was a nice sunny day, the first in about a month. We took off to drive to Lake Vyrnwy, the largest lake in Wales, about 50 miles away. We drove to Bala and then over a narrow, one lane road to the lake. On this road we passed over some moorland that was covered with a lovely purple blanket of heather. It was the nicest setting of heather that we have seen, so we stopped and poked around in it.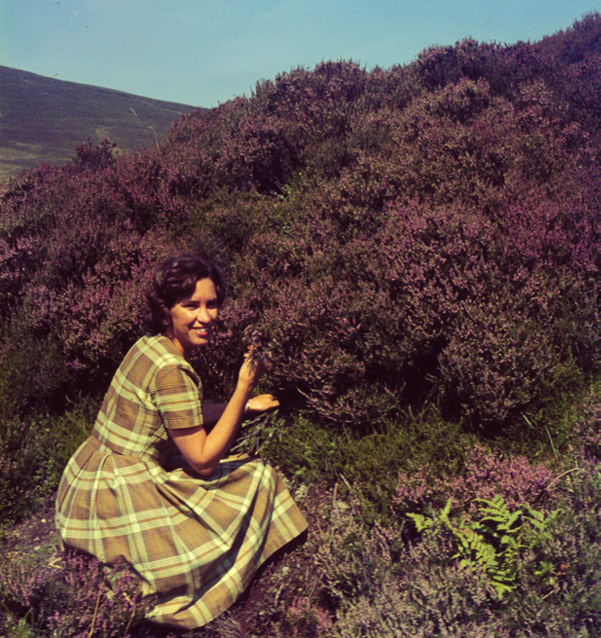 On a small road between Bala and Lake Vyrnwy we happened upon the nicest collection of heather we had seen.
It was a beautiful day and we enjoyed watching the sheep grazing in the heather.
We spent quite a while on this remarkable hillside. Us and the sheep. We didn't see another soul. We ate lunch under this tree among the heather.

Besides the grassland, the hills in Wales are patterned with patches of heather and bracken. The dark green patches of bracken, a fern-like plant except that it has branched stems, are rather attractive in summer but turn the hillsides brown in autumn. The bracken is a pest because it spreads and ruins a lot of grazing land. The same could be said of the heather except that it is often growing where nothing else would grow anyway.
The heather bloom is very tiny and gives a very subtle purple color to the landscape. It can be a glorious purple blanket in the bright sun but only a rather drab brownish patch in the shade.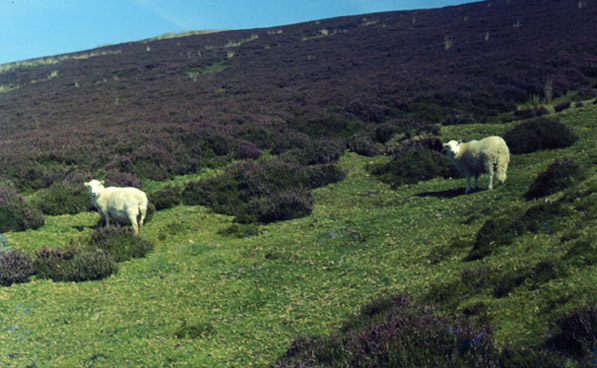 The sheep didn't seem alarmed at our presence, just a little surprised at seeing someone in their territory.
| | |
| --- | --- |
| Sunny warm days are to be savored in North Wales, even in August. It seldom reached the mid 70's. On this beautiful weekend day we had driven to Betwys-y-Coed falls and continued on to Lake Vyrnwy. | |
| | |
| --- | --- |
| | We had heard and read about heather all our lives, but had never seen it until we came to Wales. It's little violet to purple bell structures were rather sturdy - not as delicate as I had imagined. The bluebells and harebells in this country are much softer and thinner in structure. |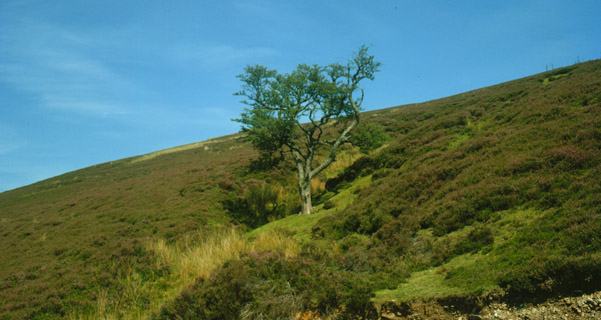 This is the larger setting of this hillside of heather. Notice that the color of the heather is quite subtle and doesn't show up until you are close, and then only when the sun is just right. We considered ourselves fortunate to get such a spectacular display this day.

This hillside of heather was between Bala and Lake Vyrnwy. We drove on to the lake, which was very nice but was almost an anticlimax after the ride over the moorland. We drove around the lake and then proceeded to Penybontfawr where we turned off to go to the Tan-y-pistyll Falls. The roads were well surfaced but very narrow. One car always had to pull off and stop when we met someone. Even then it was hard to pass. I enjoyed the country very much, however. It was very rural and fit my mental picture of English countryside. Small lush green fields were bounded by rustic stone walls. There was an occasional stone farmhouse and stone barn.

The falls were very nice, dropping well over 100 feet. Returning to Penybontfawr, we took the road to Bala for the ruturn trip. Along the way we got some lovely views of the valley, dotted with sheep and crisscrossed with stone walls all the way to the horizon.