Hike Up the Snowdon Horseshoe
September 16, 1967
John Griffith and I planned a walk over the Snowdon Horseshoe. Keith Bolton, Graham and Valerie Williams, and Alan Wardley decided to go along. Ken McCoy rang up and asked if he and his little boy (4) could come along. So the whole microwave group with the exception of Noel Owen and Professor Sheridan packed off to the mountains.
We went to the Pen-y-Pass Hotel on the Llanberis Pass and left the cars. We had a real rock-climb up Crib-goch (3023 ft). It required the use of the hands much of the way up. Ken had the worst of it since he was carrying his boy (2 stone, 28lb) on his back in a pack frame.

Ascent to Crib Goch from Glaslyn
Glaslyn (meaning "blue lake" in Welsh) is a trapped lake high on the mountain. Even Lynn Lydaw below it is the better part of 1000 ft above sea level, and we left from Bangor right at sea level. They are supposedly trapped by glacial action which dumps debris to form a dam. The group shown above L-R are Ken and his son, Valerie, Graham, and John.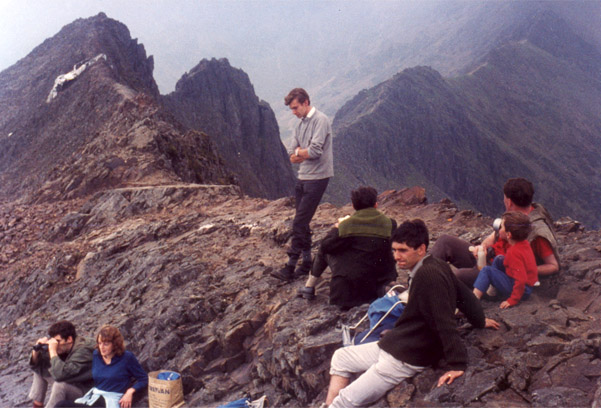 Lunch atop Crib-goch
Better to have lunch before tackling the narrow ridges! At left are Graham and Valerie Williams, then Keith Bolton, Allen Wardley with back turned, John Griffith, and Ken McCoy, our electronics technician for the lab, and his four year old son.

Across the Glacial Arete to Crib-y-ddysal
| | |
| --- | --- |
| | The narrowness of the ridge between Crib-goch and Crib-y-ddysal was incredible. |
This is the view of Crib-goch from the other direction that we had gotten on March 31 when we climbed Snowdon.

Ken gives his son a ride across the high ridge.
This was my sketch of the hike route featuring Ken and his son.
John Griffith and Valerie Williams work their way up through some of the broken and jagged rock.
After reaching Crib-y-ddysal, Ken decided to return by the lower track because of his added load. Allen went with him. The rest of us pushed on to the summit of Snowdon (Yr Wyddfa) and had a cup of tea at the cafe there. Val and Graham returned by the Pyg Track, lower down, while Keith, John and I continued around on another narrow ridge and over the summit of Y Lliwedd (2947 ft). We walked down by the reservoir and back to the car, reaching the car only about 15 minutes after the others.