Tech BSU Alumni Gathering at the Woolf's
July 4
The Fourth of July brought a picnic of Georgia Tech BSU alumni in Warren and Sue Woolf's back yard.
The ladies in the foreground include LR Sue Woolf, Betty Howard, Carol Bush and Brenda Nave, not counting those whose backs are turned. The clump of men in the background include Aubrey Bush, Ed Golden, Jim Tanner, Henry Fields, Tom Durret,Chester Henry, Render Howard, Warren Woolf.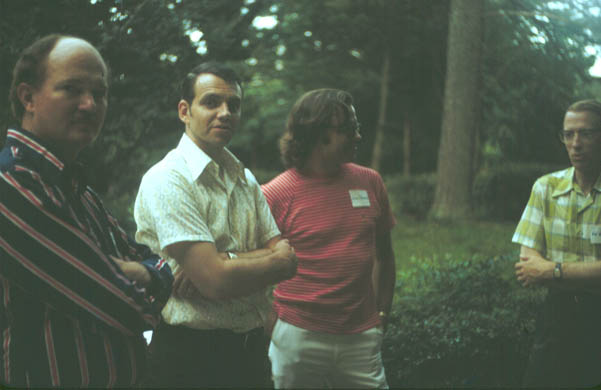 Render Howard, Tom Durrett, Jim Tanner and Ed Golden.
Chester Henry, Henry Fields, Aubrey Bush and Bill Woolf.
Warren Woolf, Chester Henry, Henry Fields, and Cecil Alford in the shadows.
Index
1972