Arkansas Trip, Rod's HS Reunion
1977
At the Chattanooga Choo-Choo
| | |
| --- | --- |
| | On July 1 we took off for Arkansas and spent the night in Chattanooga at the Chattanooga Choo-Choo in. We slept in a rail car and the boys enjoyed playing around the train cars. |
| | |
| --- | --- |
| The old train station made a picturesque hotel. We had breakfast there and headed on for Newport, Arkansas. | |
Rod's 20th High School Reunion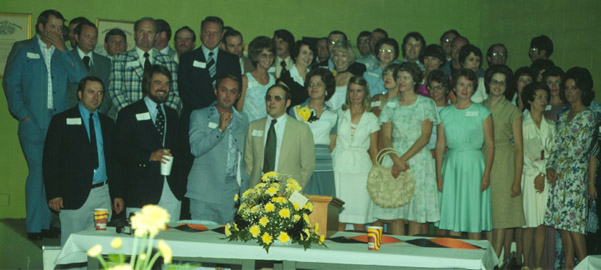 The Newport High School graduating class of 1957 gathered at the VFW Club for a celebration on July 3.
Blount Hohn makes opening remarks. Mr & Mrs Tom Fife (our senior class president) and Mr. and Mrs Phil McDonald sit at the head table with Mrs. Ruby Williams, our English teacher and class sponsor.
After the formal picture, we broke into all kinds of conversations. Rod is in back right talking to Grant Brinsfield.
| | |
| --- | --- |
| | We visited at Dorothy's on July 3 and Jeff and Mark got to engage in one of our traditional Arkansas activities, shooting off fireworks from Dorothy's driveway. We then headed back to Georgia on July 4, stopping again at the Chattanooga Choo Choo to ride the trolley. |
Index
1977