The First Year of Scuba Diving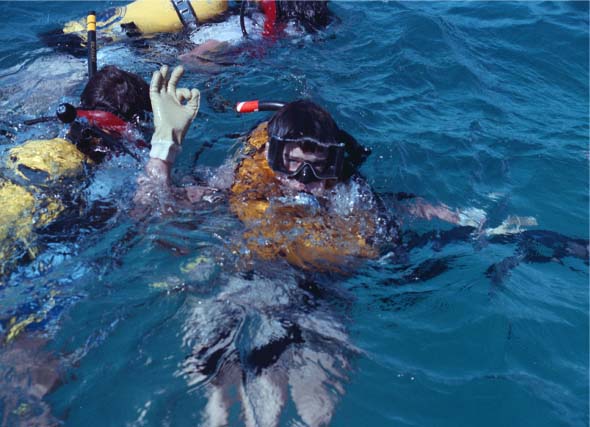 Jeff on his check-out dive, Marathon Key, Florida, Sombrero Reef. Jeff was 13 years old. August 22, 1981.



In the spring of 1981 Jeff and Rod took the YMCA scuba certification course at the Georgia State swimming pool under Bob Jackson, who was the Swim Team Coach and Scuba Instructor. Jeff at 13 was at the youngest age permitted in the course. We went down on Thursday nights for the class and then made it a tradition to go to the Varsity afterward since we were always starving after the Scuba exercises.

The Scuba check-out dives to complete our certification were scheduled for August at Marathon Key. The family went down early to visit Sherry and Dave Langley, who got us interested in Scuba in the first place. Jeff and Rod made their first dive off of Pompano Beach with Sherry and Dave.

Sherry, Jeff and Rod reached 105 ft on a dive on Conch Reef, Florida Keys, August 23, 1990.
We drove down to Marathon Key on August 21 and joined the group from our Georgia State University scuba course for our checkout dive. We went out on a 40ft boat named the Bugaloo. This shows the scuba tank storage for all these divers.
We did four dives in our checkout sequence. The third and fourth were at Sombrero Reef and we are approaching it now. The fact that there are six other dive boats visible tells you that it is a very popular reef.
Ann, Nancy and Jeff(on right) with Speedy after the last dive. We enjoyed the nice clear blue water of the Keys.
Jeff on the trail line near the boat. Speedy, our divemaster, on the left and Ann near the line.
Brenda, Mark and Jeff by lobster traps in the Keys, with smaller islands in view on the horizon.

We headed back north to Deerfield Beach for one last visit with Sherry, and got to enjoy a beautiful sunrise from there on August 23.
Index
1981