Hawaii Trip on our 25th Anniversary
June 7-14, 1987
Maui

Fly-Drive to Maui

June 9

You may click on any of the four destination islands at left to go to them.
| | |
| --- | --- |
| Having booked a Fly-Drive package to Maui, we headed out over the shallow coastal waters from the Honolulu Airport, which is right on the beach. | |
| | |
| --- | --- |
| | Soon we were up in the white puffy clouds over the deep blue water. The flights between the islands were a beautiful reverie for me. |
We flew over the edge of Lanai with its expanses of sugar cane and could see Kahoolawe in the distance.
We approached the coast of Maui and soon could see its rugged coastal features.
We approached the airport at Kahului over extensive sugarcane fields, and soon we were walking in them on dirt as red as any Georgia clay. The advantage of renting a car, to use, is that you can just get out and poke around in the country.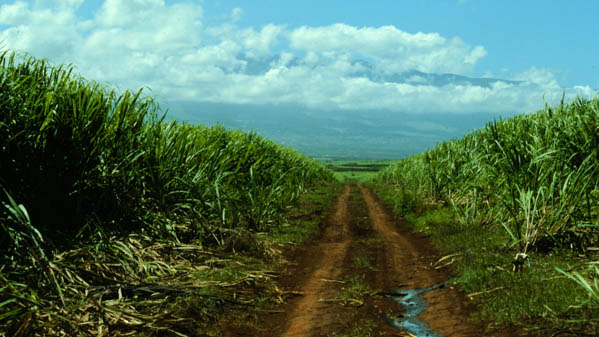 This dirt road leading through the cane field reveals a view of Haleakala in the distance among the clouds.
As we climbed the road to Haleakala, we could look back down the mountain all the way to the coast under the low strata of clouds.
When we reached this height, we were looking down on some of the clouds.
| | |
| --- | --- |
| | There were lots of sights that were distinctly Hawaiian, like this Angel's Trumpet tree and a nene - the uniquely Hawaiian goose. |
| | |
| --- | --- |
| | Part of the landscape near the Haleakala visitor's center was like a desert. We began to see the dramatic silversword plants. |
| | |
| --- | --- |
| | We drove the steadily climbing road toward the center of the island until we were standing in view of the strange moonscape of the Haleakala Crater. |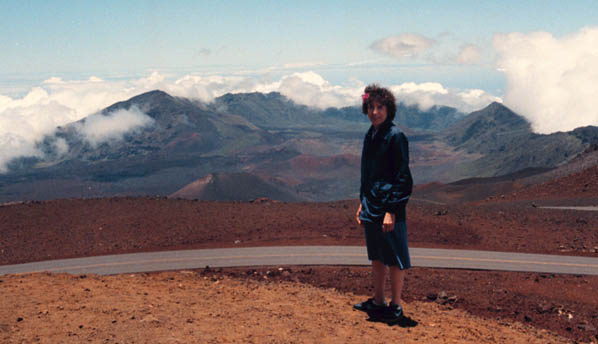 Brenda on the rim of Haleakala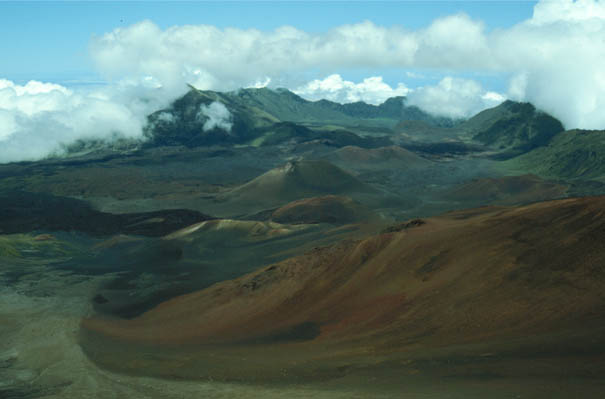 After the view at the top, we decided to take the hiking trail back to the rim of the crater and have lunch on the rim. It was an entirely different experience, sitting on the side of the crater all alone.
| | |
| --- | --- |
| This jacaranda tree was covered with blossoms and had a kind of pod as well. | |