Central Oregon
August 24, 1989
We planned a trip over to Kah-nee-ta, a hot springs resort over on the dry side of the mountains. About 8am we headed north on I5 so that Mark and I could return the rental car and then take off over the mountains. With all charges included, it cost us $171 for the weeks rental. We drove the car 742 miles.

Charles and Wanda picked us up at the Hertz place and we headed down Hwy 26 by Mt. Hood. Unfortunately, it was too cloudy to see Mt. Hood so we just went on by. We did enjoy seeing the beautiful forest.
| | |
| --- | --- |
| | Once we were over the top, the sky started clearing and the land got drier and drier. We got a good view of Mt. Jefferson as we moved into the semi-arid region around Warm Springs. |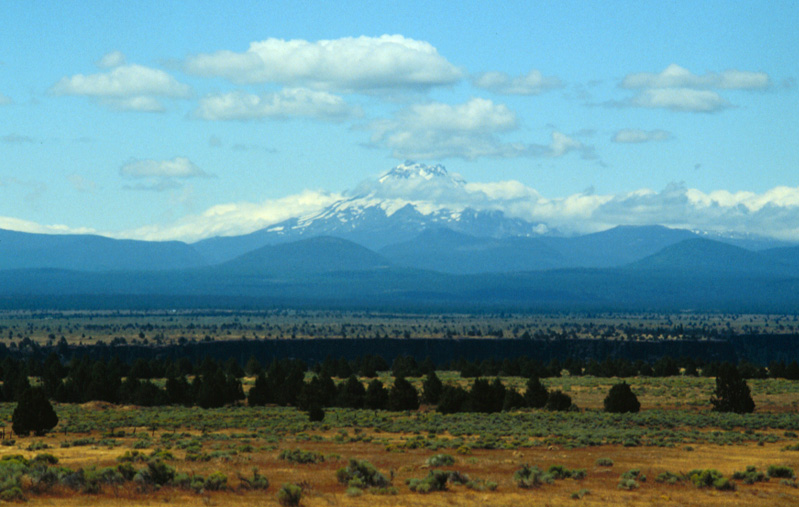 | | |
| --- | --- |
| | The country opened up to wide valleys and large expanses. There was a lot of sagebrush and large ranches with horses. |
| | |
| --- | --- |
| | Very interesting wide-open terrain. Interesting hump out in the middle of the grassland. |
Before reaching Warm Springs on Hwy 26, we turned off along the River to the Kah-nee-ta complex, a recreational facility run by the Indians. I was amazed at the large, well-equipped pool and the carefully manicured grounds. The pool is heated by warm springs - or rather the water from the hot springs must be diluted with cool river water to lower the temperature enough for swimming.

We all swam in the pool. Mark and I enjoyed the diving board and Wanda enjoyed the spa. This is one of Wanda's favorite places, so I was glad we got over there. After swimming, we played miniature golf and Mark got to play a couple of video games.
| | |
| --- | --- |
| | After lunch we drove on south along the Warm Springs River, through farmland and across the interesting Gorge. We saw a lot of fields of mint as well as wheat, sheep and cattle. Looking back east we could see Mt. Jefferson and the Three Sisters mountains. We turned back west on highways 126 and 20 to Albany. |
| | |
| --- | --- |
| On the way back we got a classic example of the weather pattern of the northwest. The clouds were piled up against the west sides of the Three Sisters and the sky was clear on their eastward flanks. So whether you want semi-arid open land or dense, moist rainforests, you can have it within 30 miles of travel. | |
Index
1989