Visit with Charles, Wanda and Family in Oregon
August 20, 1989
We went to Sunday School at Calvary Baptist -- there were about 80 in attendance. Paul Soward taught the men's class. He talked a bit country&western but his vocabulary betrayed a keen intellect. His examples showed a strong background in scripture and in books and other resources. Charles told me he was on the pulpit committee and that one of his children had been in Charles' church in Beaverton. I was much impressed with him.
Jim Whittington was Mark's teacher and was also the music director. His wife is from West Point, Georgia and had just flown in from there yesterday. Jim is from Alabama and came to Oregon about 18 years ago with a lumber company. Jim and Paul are obviously two of the stalwart members of the church.
Charles led music and directed the Sunday School opening assembly. A tall, gentle man named Fred participated. Charles is very interactive with the group in that setting, and his keen sense of humor comes through. He is very effective in group interactions.
They have a very fine pianist in Elaine Cardwell. She and her husband Ed are among the several fine young couples who are active in the church.
Steve and his wife Marsha, John and Mary and their children along with Bob and Sarah were down for the service. Mary did a beautiful job of singing Via Dolorosa. It was a fine service.
After the service we went to a park for a churchwide picnic. Mark and I played softball and volleyball with some of the members. There was also horsehoe pitching, a water-balloon toss, and other games.
We arrived just in time to participate in a church picnic with the church of which Charles was pastor. One of the events at the picnic was the water balloon toss, so Mark pitched right in. Note the balloon hitting the ground at bottom right.
Tossing water balloons over the badminton net occupied the younger generation while the older ladies sat around the table.
| | |
| --- | --- |
| Horseshoes were the order of the day for the men. Grandpa Charles holds little Emily while Bob and Sarah take it easy on the grass. | |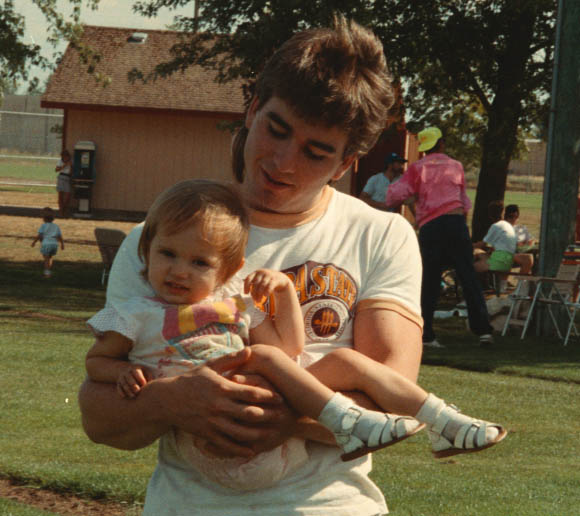 Mark enjoyed playing with little Emily, who charmed us all.
| | |
| --- | --- |
| Playing with Emily was a lot gentler too - Mark had gotten a bit scraped up on the ballfield with a slide into base. | |
The church folks all seemed to be having a good time.
At six we had a vesper service with about 60 persons present. I thoroughly enjoyed the fellowship with the church members. It seemed to be a real community-building event for the church.