Travel to the Kenai Peninsula
August 13, 1991
The Shifting Sands
We had to travel around the shallow inlet named the Turnagain Arm to get to the Kenai Peninsula. This trip included a couple of eye-openening experiences. First, the Turnagain Arm had almost no water in it! Since it was low tide, it was a vast mudflat. I had not done my homework on Anchorage enough to known that the range of tide in the Cook Inlet was one of the greatest in the world, and it just about emptied the Turnagain Arm at low tide. The second eye-opener is shown in this view - the wind lifted an amazing amount of sand and sort of kept it suspended in the wind a few inches above the sandy flat. All the light colored area in the foreground of the above is sand suspended in the air.
| | |
| --- | --- |
| | Even though it was a dull and overcast day, there were spots of colorful beauty along the Turnagain Arm. Mitch Crowley is pondering a shot of the Arm and the mountains over on the Kenai Peninsula. One of the neat sights along the road was that of the dall sheep on the rocky ledges of the inland side of the road. |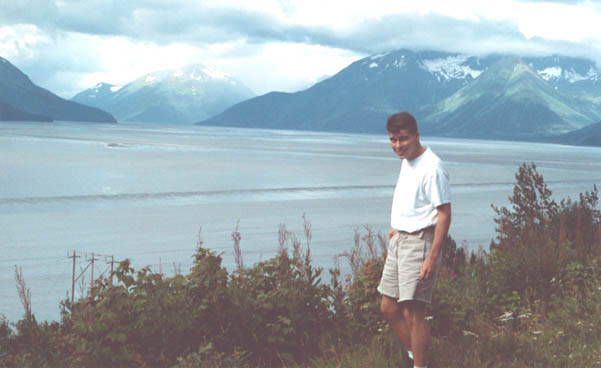 Jeff with a view of the Turnagain Arm
Even with the overcast conditions, the view was new and dramatic to us. At times rays penetrated the gloom onto the sand and water. The mountains to our left had glaciers at their peaks and all kinds of rivulets of water running down the mountainside below them.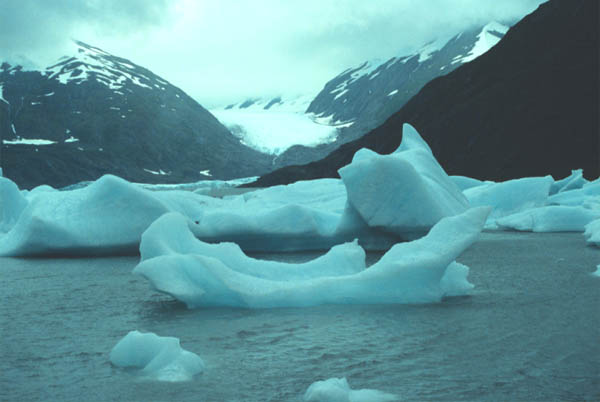 | | |
| --- | --- |
| | Near the end of Turnagain Arm we visited Portage Glacier, which calves icebergs into a small lake. Mitch Crowley and Jeff at left show the scale of the glaciers shown above. |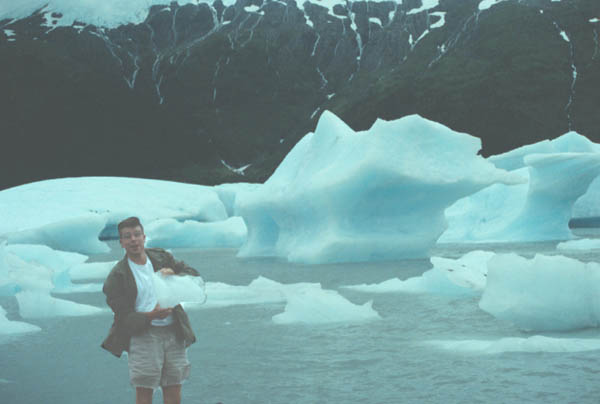 This was a strange world indeed for a guy in shorts who had just flown in from a very hot Atlanta in August. Note the blue color of the icebergs and the abundance of small rivulets coming down from the glacier up on the side of the mountain in the background.
This was the closest I came to recording the luminescent blue of the icebergs.
The network of melt streams coming down from the edge of the glacier was something I had never seen before. The glacier blends into the cloud above.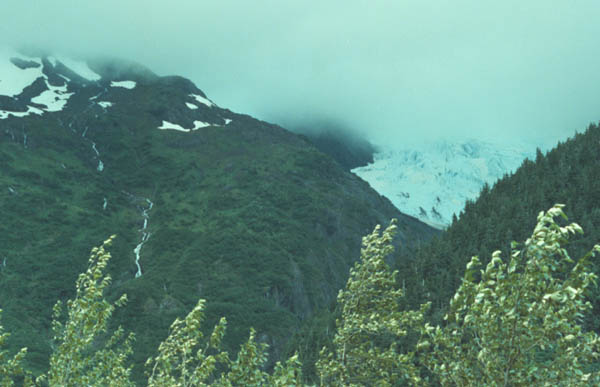 After an enjoyable and unique visit to the Portage Glacier, we continued on around the end of Turnagain Arm and took the road across the Kenai Peninsula toward Mt. Redoubt. We found glaciers along the way, up on the mountains as shown above from the road toward Soldotna.
| | |
| --- | --- |
| | Toward the end of a long day of travel from Atlanta to Anchorage, Alaska, we headed on down the Kenai road toward our destination, the Mt. Redoubt Baptist Church. |