Mt. Redoubt Construction
August 14, 1991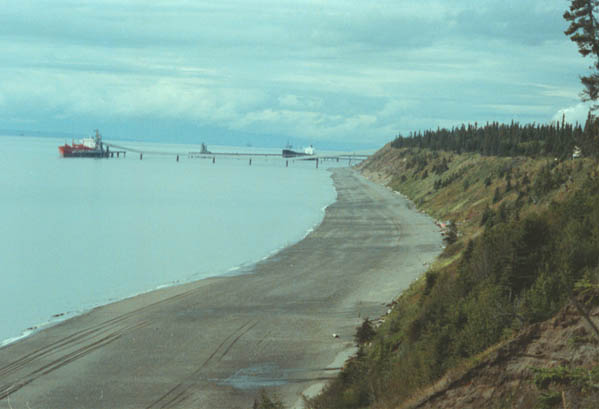 When we took a break and walked across the road and through the trees, this was our view northward along the Cook Inlet, in the general direction of Anchorage. There were oil loading points along the Cook Inlet. The main resource of this area is oil, and lots of oil is taken across the Inlet. There were also oil platforms out in the Inlet.
This closer view to the north shows a couple of offshore oil rigs beyond the ship loading points. There were a couple of men in the church who worked on the offshore rigs.
This is the view of the church location as we were walking back from the Cook Inlet. You can see our work area to the left of the building and the excavation for the new building is just to the left of that. Mrs Moore was responsible for the whole property being ringed with wildflowers, having gathered seed and scattered it for several years.
Roy Moore, the pastor of Mt. Redoubt Baptist Church, pitches in to make some of the plumbing connections below the basement slab for the downstairs bathroom and heating system. He didn't get to work with us as much as he would have liked because he was keeping the tool room for the industrial plant just up the Inlet. The time of the annual "turnaround" or maintenance shutdown landed right on our weeks construction trip. The circumstances did give strong evidence of Roy's influence and reputation in the community. In previous "turnarounds" the company had high losses of tools and materials. So they hired the pastor of the local Baptist church to keep the toolroom, and they hadn't had any losses. So they were keen on hiring him again and it was a good opportunity for witness.
With a large fraction of the basement block laid, things started happening rapidly. A large loader was brought in to level the dirt in the basement, while the plumber worked in the front corner to put in the basement plumbing. Harry and Mitch had jumped onto the short wall project and had it underway.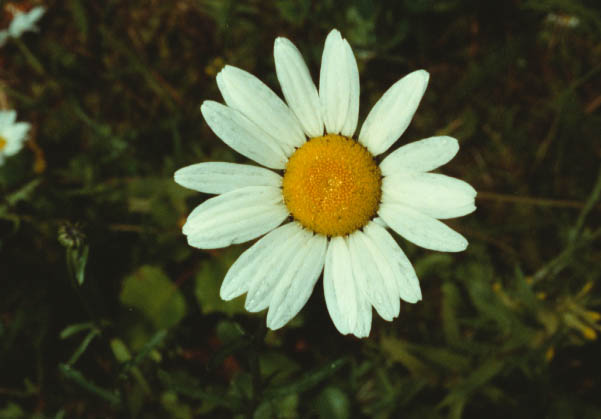 As this day drew to a close, I took a little time to look more closely at the flowers that bloomed so profusely around the church building.
\