Fairbanks, Alaska
August 12, 1992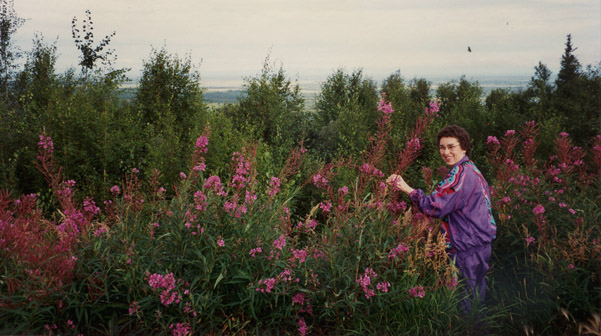 On the way to Fairbanks from Denali Park, we stopped to examine some of the abundant fireweed.
| | |
| --- | --- |
| | I was keen on stopping off to see the huge radar antennae at Clear, Alaska. They are part of the Distant Early Warning (DEW Line) radar network that gaurds agains military attack over the pole. This was about as close as we were allowed to get. |
| | |
| --- | --- |
| Mary Shields provided a dogsled demonstration at the reconstructed Athabascan village that is a part of the Discovery riverboat tour. | |
This is "Big Joe", one of Mary's "wheel dogs". He is featured in one of her children's books, "Can Dogs Talk?". This is along the Tanana River near Fairbanks.
| | |
| --- | --- |
| Mary Shields was very gracious to talk with people about her dogs and about the life she and her husband live out in a remote cabin near Fairbanks through the winter. She was the first woman musher to complete the Iditarod. | |
This Athabascan Indian woman demonstrated some of the native crafts as part of the tour.
Brenda examines a log cache at the reconstructed Athabascan village on the Discovery tour. Max and Anita are shown in front of a sod-roofed log cabin on the Tanana River bank.
This is an airport, Alaskan style, near Fairbanks. There was a dirt strip for wheeled planes, but most of the traffic was from the river. Then in winter they could change to skis. This was on the Chena River near the dock of the Discovery riverboat.
Index
1992