Mt. Reboubt Construction
August 24, 1992
| | |
| --- | --- |
| | Anita Hardie, Sue Woolf and Jo Allison have collected and done laundry for the whole group and are sorting out the dried clothing on the pews. We were a bit nervous about hanging the laundry in the church auditorium, but when Kathryn Fant came by for a visit, she was delighted that the pews were getting some use other than on Sunday! |
The appearance of sunshine brings us over to the bluff bank overlooking Cook Inlet to look for the mountains. Brenda with Sue and Warren Woolf above. Mt. Redoubt is gleaming with snow on the far side of the Inlet. Jo Allison and Harry Espy join us for the view below.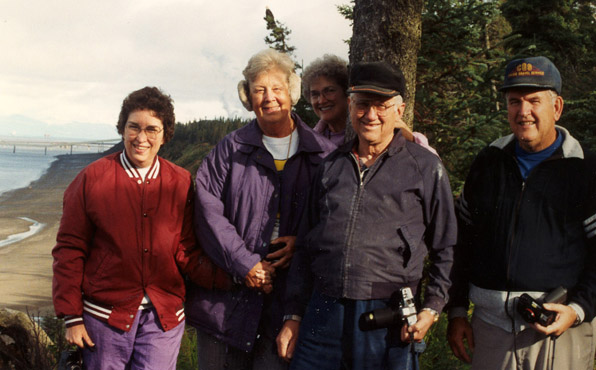 Max Hardie, Curtis Martin, Anita Hardie, Jo Allison.

We were excited to get our first views across the Cook Inlet on this trip after days of rain. We did go back and work on the construction after this.
Tuesday, August 25, 1992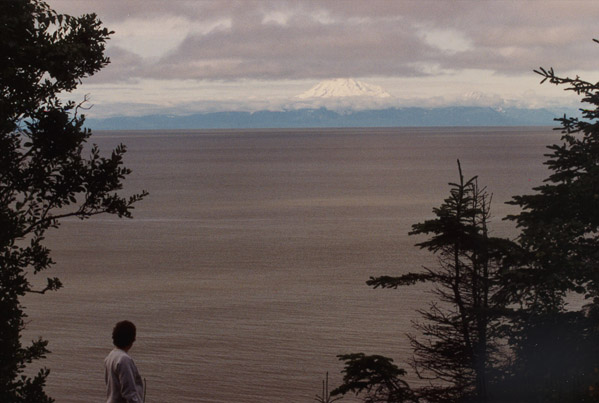 | | |
| --- | --- |
| On Tuesday morning, Brenda and I went over for another view of Mt. Redoubt across the Cook Inlet. The strata of clouds leave a view of Mt. Redoubt gleaming in the morning sun. This small cut in the bluff sheltered us from the wind and made a nice place from which to view the mountain. | |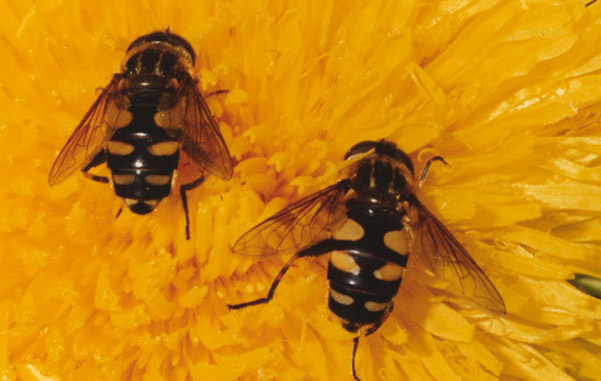 | | |
| --- | --- |
| In the afternoon, Rod took a few minutes for closeup photography. We found wild raspberries, and Rod had become very fond of raspberries from the homemade raspberry pies we have run across several places. He spent a few minutes in "small game hunting" to find the bee flies above and the small bumblebee at right. Most things in Alaska are large, but their bumblebees are small. | |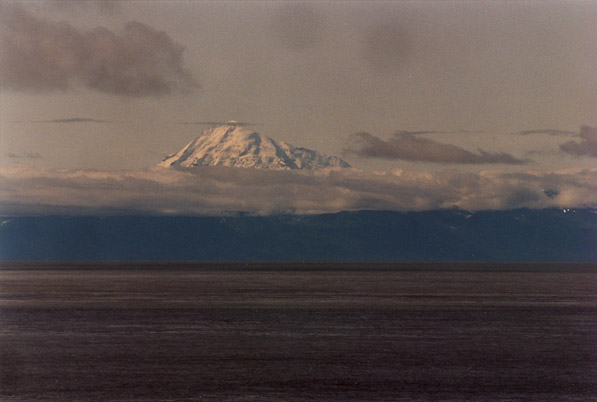 Sunlight on Mt. Redoubt and a relatively clear afternoon is again irresistable to a photo nut like Rod, so it's back across the roadway for another snapshot.
Mt. Redoubts shows sunset hues at about 9PM. Losing 6 minutes a day of daylight since we have been here has made a noticeable difference in the time of sunset.
Looking toward the north-northwest from the bluff bank across from the church, you can see several of the offshore oil platforms out in the Cook Inlet.
The fellowship in the evening has been a great part of the experience here. Pastor Roy Moore has been working 12 hours a day in the "turnaround" at the Unocal facility, but he usually drops by to see us in the evening. He and Warren Woolf have a conversation at our long dining table. Roy operates a tool room for the turnaround operation, the company having great confidence that with his overseeing the toolroom there will be no theft or other dishonesty. The location of the oil facility is onshore roughly in the direction of the oil platforms shown above.
Sue Woolf and Jo Allison have taken on the main burden of food organization and preparation, and are shown here in the church's kitchen.
Index
1992