Mt. Reboubt Construction
August 26, 1992
At breakfast time, Sue brought out a muffin with a candle and we sang "Happy Birthday" to Brenda. They had kept back the cards she had gotten to present to her this morning.
This was our work team on the occasion of this birthday breakfast for Brenda. Harry Espy, Curtis Martin, Warren Woolf, Sue Woolf, Max Hardie, Anita Hardie, Jo Allison.
| | |
| --- | --- |
| Sue with her morning coffee at the back door. | |
It is perhaps appropriate to mention in passing our less than luxurious accommodations just to emphasize that they didn't matter. The old church building had three ramshackle mobile home structures tied to the back of it, and that constituted our cooking, dining and living quarters. This is what the construction was for - to replace that old conglomeration. But one hardly remembers the accommodations when we remember the grand experience of being there in this dramatic location and working together like a "Christian commune" for these days. At right, Rod is between the old and new structures. Just in front of those structures is the road and then the bank that led down to the Cook Inlet.
| | |
| --- | --- |
| | Max and Harry working on the last day of sheet rock hanging for this trip. The main part of the ceilings and walls on t he lower floor have been completed, with certain sheets left out for the complletion of the hot water heating system. At right can be seen the bottom of one of the stairs that Warren and Rod built - all the main stairs were completed. |
| | |
| --- | --- |
| Our foursome from Mableton, Max and Anita Hardie, Brenda and Rod, stand in front of the building. It doesn't look that much different on the outside from when we arrived, but much has been done inside to get the church people to the point where they can proceed on their own. | |
| | |
| --- | --- |
| | Max and Harry box in the steel beam with sheetrock. |
Curtis Martin and Dan Cox, with the help of the ladies, have pullled in most of the wiring for the ground floor. Curtis wired the three-way switches and other key electrical components that might have been troublesome.

Dan on the only entry into the building. They have to complete a second entrance and exit - the front steps- before they can occupy the building.
| | |
| --- | --- |
| | Rod and Warren installed and boxed in the windows on the near side of the building. Gene, Harry and Warren installed the windows on the opposite side on Thursday. |
| | |
| --- | --- |
| Rod and Warren sawing the RBB siding for boxing in the windows. This is one of the final steps to seal the bottom floor and allow work to proceed during the winter months. | |
| | |
| --- | --- |
| | Rod working on the completion of the siding around the windows. |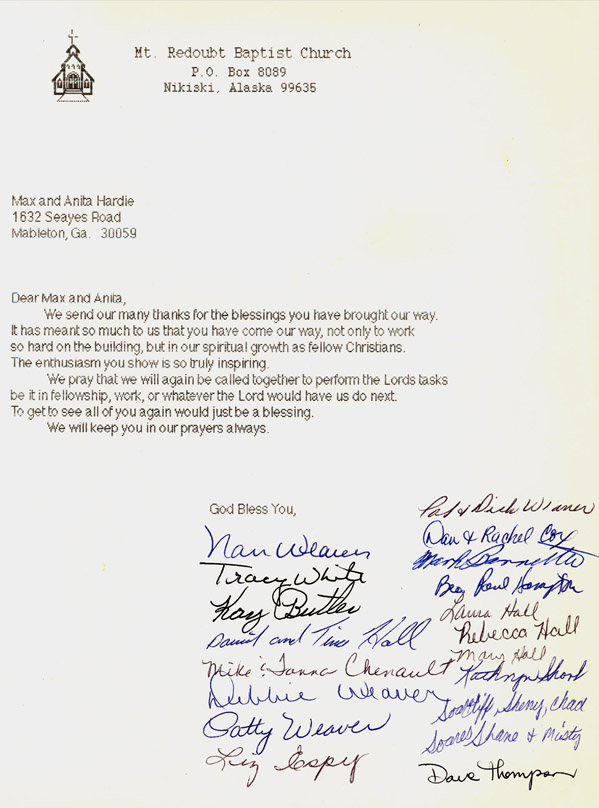 Index
1992