Trip to Homer
August 27, 1992
| | |
| --- | --- |
| | We made the 50 mile trip down to Homer like we did last year. It is a unique place for fishing and seeing the bird life of the area. |
| | |
| --- | --- |
| | On the way out onto the Homer Spit, we joked about the basic priorities of the resident of this trailer - his TV must be very important to him. Actually it's probably some satellite monitoring system. |
| | |
| --- | --- |
| | We arrived in Homer just in time to catch a 10am tour to Gull Island, so we hurried down the steep rampway to reach the floating dock at near low tide. We headed out of the comfortable little harbor on a tour boat. |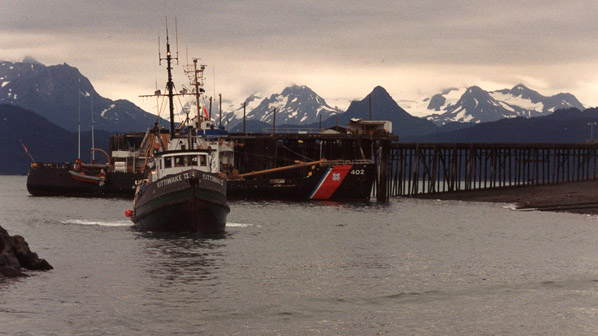 | | |
| --- | --- |
| Gull Island is in the background of the Rainbow Connection, the tour boat we used last year for this trip. The boat we are on is essentially identical. | |
| | |
| --- | --- |
| | Curtis, Rod, Anita and Max appreciated their coats in the cool sea air with temperatures in the 50's. |
| | |
| --- | --- |
| Rod and Brenda, Max and Anita as we move close to Gull Island. | |
| | |
| --- | --- |
| | Thousands of gulls, common murres, and cormorants nest here. A smaller number of puffins can be seen. |
| | |
| --- | --- |
| The three primary residents of Gull Island can be seen here: cormorants, a puffin and a gull. This is the typical setting for puffin nests. They like to burrow in under the clumps of grass. | |
The puffins were delightful. Excellent divers and fish catchers, they are said to dive to 200 feet chasing fish. They are not such good fliers, and sometimes eat so much fish that they have trouble getting airborne. Usually they dive when a boat comes close.
| | |
| --- | --- |
| | There were a number of bare rocks that serve as nesting places for vast numbers of birds, out of reach of land predators. |
| | |
| --- | --- |
| Though sometimes dark with the overhanging clouds, the mountains south of Kachemak Bay were dramatic. You can see glaciers up on their slopes. | |
This is a view of Grewingk Glacier, the most prominent glacier we could see across the Kachemak Bay.
Index
1992