Denali Park, Alaska
Kantishna, the Gold Mining Camp
August 11, 1992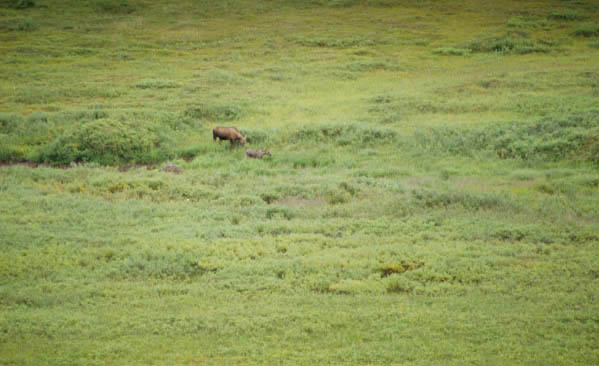 Continuing past Eielson Lookout, we traveled through a broad green valley. The moose cow and calf did not seem to note our passing.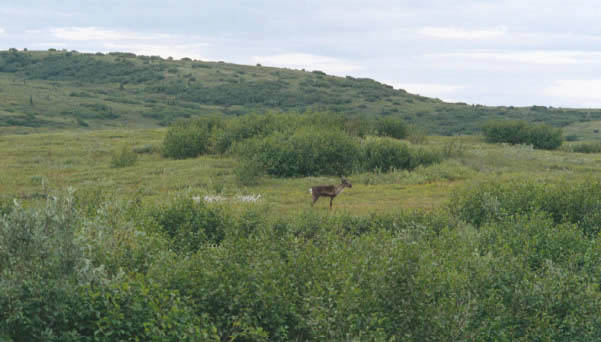 It was nice to see the caribou in completely natural surroundings.
We reached the gold-mining village of Kantishna. Brenda immediately made friends with the sled dog which greeted us.
| | |
| --- | --- |
| | One of the most interesting structures in the village was the original Recorder's Shack from the gold rush days, shown above. All of the structures were of wood, mostly natural, and moose antlers were everywhere. One of the activities for the busload of folks was to pan for gold in a small stream leading to the larger river. |
| | |
| --- | --- |
| | A rushing river ran through Kantishna. It showed the characteristic color imparted by the glacial silt it was carrying. |
On the way back from Kantishna, Wonder Lake provided a beautiful view of the base of the snow-covered mountains.
The peaceful lake was a nice foreground for the dramatic mountains.
| | |
| --- | --- |
| | The small ponds along the road were called "kettle ponds". In a number of them there were beaver dams. Beyond the ponds is one of the shallow braided rivers and at the horizon is the base of the mighty mountain range. Denali is high in the clouds, but you can see the beginning of the snow at the base. |
Index
1992