From Seward to Portage Glacier
August 28-29, 1992
When we returned to Seward, all eight of us from the Mt. Redoubt construction crew spent the night at the Stony Creek Bed and Breakfast just north of Seward. A glacial stream, Stony Creek, ran just in front of their house and a clear mountain stream ran just a hundred yards away at the back of the houses. It was packed with pink salmon coming upstream to spawn. It was exciting to actually see this process that we had read about all our lives! Max Hardie, Harry Espy and Curtis Martin, above right, examine the dozens of 18"-24" pink salmon as they fight their way up the stream. The stream can be seen at the upper left of the picture.
Warren Woolf, Curtis Martin and Harry Espy on the morning of August 29 at breakfast.
| | |
| --- | --- |
| | Ann and Dewey Smith were gracious hosts and the house with the rooms was spotlessly clean and incredibly well constructed. They came out to the B&B, just behind their house, and fixed us a nice breakfast the next morning and sat and talked with us for a while. Dewey is a retired builder and had built the structure himself, starting on a day which was -5°F! They showed us pictures of the deep snow they got last year, almost to the roof of the B&B. But they said the temperature was not extreme here, typically 10-25°F in January. |
We headed out north toward Whittier, and upon Ann and Dewey's advice, stopped by Ptarmigan Creek where the red salmon run was occurring. It was a small, shallow creek and we might have just driven over it without their advice.

The number of red salmon was amazing. The water was just deep enough for them to pass.
| | |
| --- | --- |
| Standing there just a few minutes, the number of salmon passing was just unbelievable. The whole stream was full of them, and some of them got forced into the shallow water and just had to splash themselves through. | |
| | |
| --- | --- |
| | These two guys were fishing in the stream, but Max explained to us the the salmon don't usually bite during these runs and in fact it is illegal to catch them. His presumption was that they were fishing for the trout that are always in the stream. |
| | |
| --- | --- |
| | We got a nice early morning view of Kenai Lake as we made our way northward from Seward. We also got good examples of fireweed that has "cottoned out", the last stage of the normally bright red plants before winter. The people say that the first snow is six weeks from the time of "cottoning out". |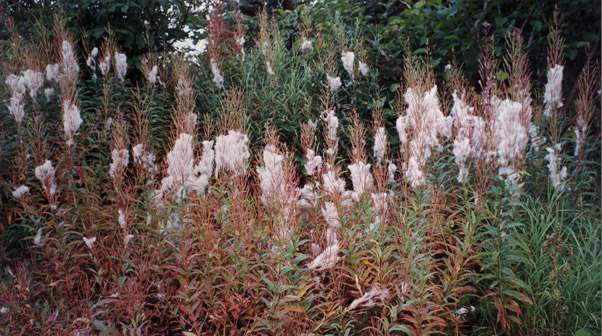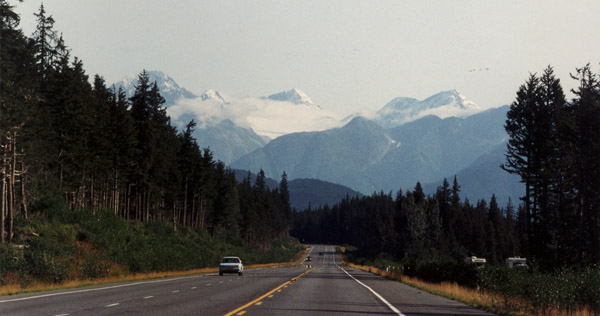 | | |
| --- | --- |
| Starting the clearest day of our entire trip, we got nice views of the Chugach Mountains above Turnagain Arm as we approached. The view above shows the quality of the highway around the Turnagain Arm from Anchorage to Seward and the Kenai Peninsula. Below we come into view of the Turnagain Arm with the mountains standing to the north and northeast of it. Saturday, August 29. | |
| | |
| --- | --- |
| | We made another run by Portage Lake below the glacier since we had an hour to spare. One of the icebergs was touching shore, so Brenda could climb out on it. We had enjoyed our first view of Portage Lake on August 14 as we were heading for the Mt. Redoubt location. |
Index
1992