The Carthew Trail
August 14, 1995
Climbing toward the ridge past Wurdeman and Nooney Lakes
Proceeding on up the trail from Summit Lake, we got our first view of the blue Wurdeman Lake, nestled in a pocket across the border into the United States. Notice the snowbank that reaches all the way down to the water.
| | |
| --- | --- |
| This kind of scene has the aura of a wonderland for someone from the southern U.S. We certainly don't see this at home - trickling streams of snowmelt feeding into a brilliant blue lake, with the remains of a winter snowbank lingering at the water's edge. | |
Jeff and Darla along the gently sloping red trail which led upward through the forest from Summit Lake.
| | |
| --- | --- |
| As we headed upward from Summit Lake, we had a nice, gently sloped trail through small fir and spruce trees. The trail had the red hue of the mountain ridge we were on. Below the trail opens out onto a long bare slope of reddish rock, referred to in the things we read as red argillite scree. | |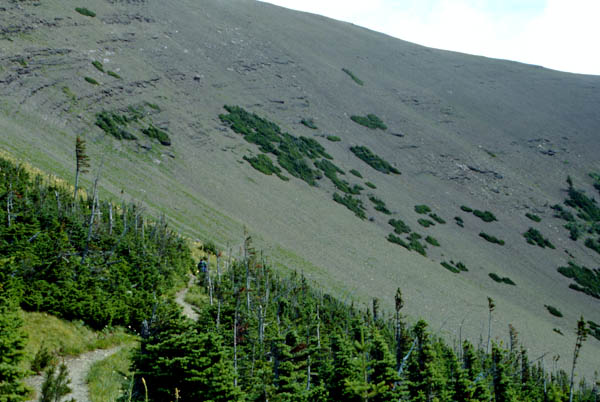 | | |
| --- | --- |
| Though we were traveling through the trees, at times we caught sight of the bare ridge above the tree line. The view above is the point at which we moved out of the forest and onto the bare face of the ridge. | |
In the transition region between the trees and the bare rock region, there was this large region of grass and the beargrass blooms. This was the largest collection of beargrass I had seen.
Jeff and Darla up on the Carthew Trail. The trail runs for a mile or so alongside a steep ridge, and at this location there was a remarkable collection of bear grass.
At the edge of open rocky slope, we got a good view of Boundary Creek. This reminds you that you are looking over into the United States from Canada, since the creek runs very nearly parallel with the national boundary.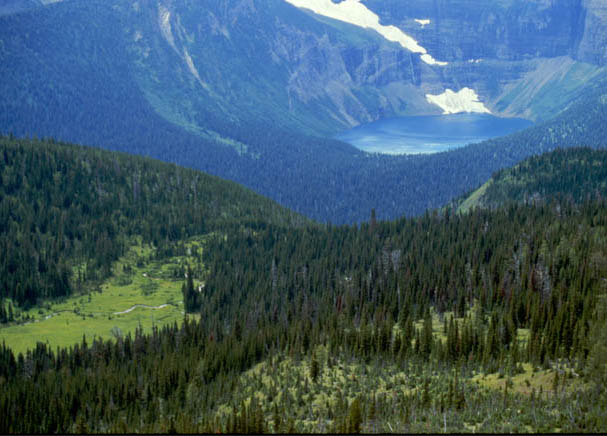 Wurdeman Lake is one of the delightful pocket lakes high in the mountains. You have to come up on the trail to see it - and it is so beautiful, it is worth the hike just to see it. As we proceeded up the trail, Boundary Creek is seen in the meadow at left.
Jeff and Darla move out of the beargrass region and out onto the trail across the bare rocky slope. In the distance, Brenda has already walked out onto the slope.
As we moved out onto the bare rock slope, we looked back through the small trees and to the vista of mountains to the south in Glacier National Park.