The Carthew Trail
August 14, 1995
Up through the scree toward the top of the ridge.
As we moved out onto the open slope, we got unobstructed views of Wurdeman Lake.
| | |
| --- | --- |
| | The tiny ribbon of blue through the bright green meadow is Bounday Creek, almost on the boundary between Canada and the United States. |
Moving on up the trail, you get a straight view of Wurdeman Lake and then the smaller, higher Nooney Lake comes into view, shown at extreme right.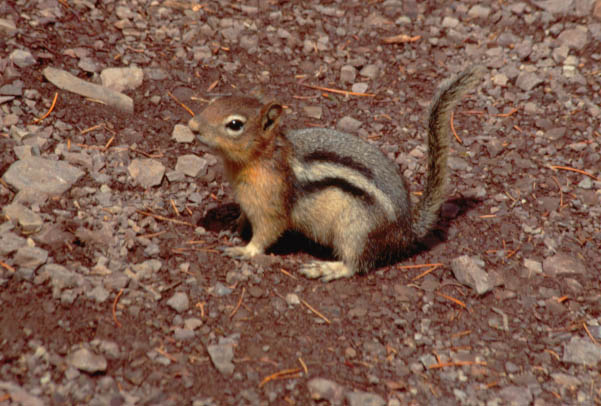 There is enough traffic on the trail during the summer that the squirrels become tame and opportunistic. This one put on quite a show for Rod as he lagged behind the others, taking pictures.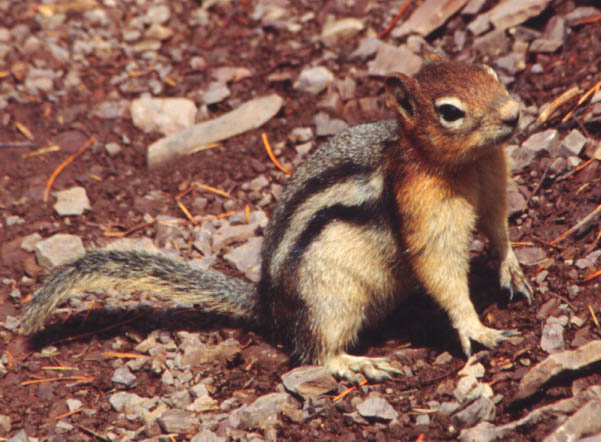 | | |
| --- | --- |
| We have had a significant amount of discussion about the red color on the head of this squirrel species. We have seen it nowhere else, but when we saw it at our lunch spot, we considered that it might be just from digging in the red dirt. But the photo above clearly shows that it is a part of the fur of the squirrel, that it is truly a red-headed squirrel. | |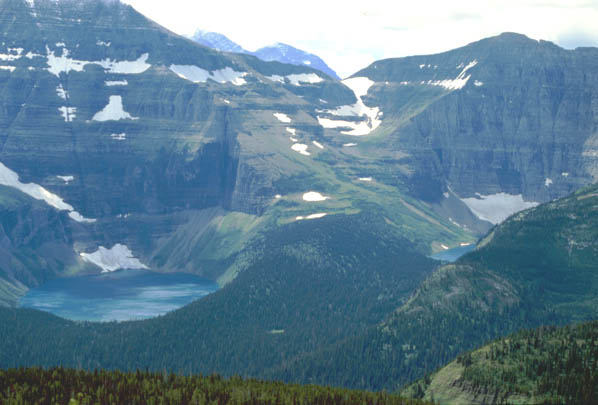 Watching the changing perspectives of Wurdemann (left) and Nooney Lakes as we climbed kept us on a high! They were so beautiful in the bright sunshine that it was hard to believe!
This is the view back at the trail across the open rocky area. Rod took this shot from a sharp bend in the trail where long switchbacks to the top of the ridge began. It was here in some scrub bushes that he found the squirrel shown above. It is a very good trail, but out on the bare rock the slope seems pretty steep, and you are looking a long way down when you look below the trail.
Turning the corner, we headed up the sweeping switchbacks. Jeff and Darla are in the distance at the next sharp bend.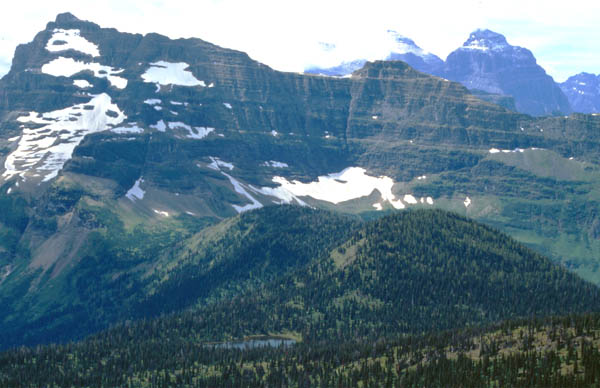 | | |
| --- | --- |
| We had now reached a high enough altitude to look back down at Summit Lake below us. | |
After a couple of turns up the sweeping switchbacks we had a clear view of the trail we had taken across the rocky slope. But now we were surprised to see Cameron Lake nestled down in the pocket. We had been on the trail several hours now and it was neat to see our beginning point.
We finally were seeing the top of the ridge and beginning to see the mountains on the other side.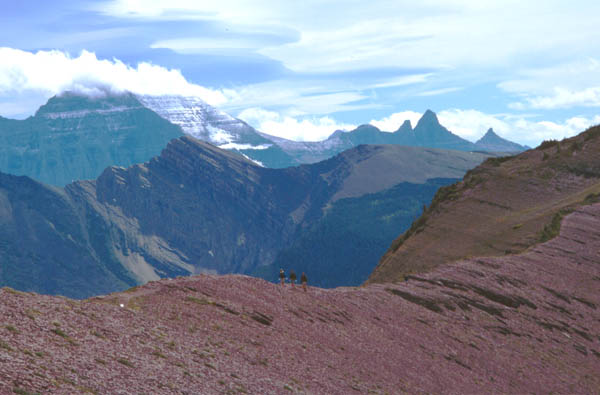 At the top of the ridge at 7900 feet! The picture shows you what it looked like, but it cannot reproduce the roar of the wind. The upward trip was fairly free of wind, but at the peak, it was roaring.