The Carthew Trail
August 14, 1995
Down the north side of the ridge to Carthew Lakes
| | |
| --- | --- |
| | As we topped the ridge, we looked down steeply at the small Carthew Lakes. After spending the morning looking south at the multi-tiered high mountains of Glacier National Park, it was a surprise to look northward and see the mountains suddenly cease and look at a flat plain. |
As we finally reached the top of the ridge at almost 8000 feet, we could look backward and see Cameron Lake nestled in its pocket of the mountains. We had started out from Cameron Lake, and the perspective of the lake from our starting point was so different that it was hard to believe it was the same lake. It was a day of amazement at the beauty and majesty of the area. We were just praising the Lord and singing along the trail.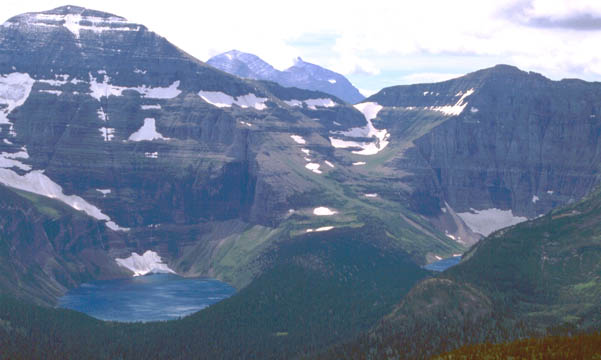 As we topped the ridge and started down the other side, we took one last look at Wurdeman and Nooney Lakes which had given us so much pleasure on the way up. From this vantage point, we could see all four lakes. Standing in the howling wind at the 7900 ft ridge, we could look back toward the southwest and see Cameron Lake down in the hollow below snow-patched Forum Peak. Tiny Summit Lake was also in view.
| | |
| --- | --- |
| On the way down the trail from the peak of the ridge, we encountered some extraordinary curved layering of the red rock. Looks like a good place for a geology lab - I can only dimly imagine the kind of conditions which would have distorted and curved the rock layers like this. | |
Jeff and Darla are headed down toward the Carthew Lakes.
Brenda heads down the red rock trail toward the Carthew Lakes. As we went down that trail the wind was blowing so fiercely in our faces that we could essentially lean on the wind as we went down the trail. The sound of the wind was a continuous roar.
| | |
| --- | --- |
| | Besides the howling wind, crossing to the north side of the ridge gave us a lot more snow. As we went down the steep slope, this snow was at our left side. |
| | |
| --- | --- |
| As we started downward from the high point, we crossed wide regions of red scree rock. The books called this red argillite, and this gives a good look at its nature. This marmot was out in the open on the scree, and didn't seem to mind our presence. We saw several marmots playing around. | |
Now down at near the level of the upper Carthew Lake, Brenda proceeds toward a rock outcropping where Jeff and Darla are waiting. Because of the photography, Rod is of course still lagging far behind.
Jeff, Darla and Brenda wait at a rock outcropping for Rod to catch up. The trail to the upper Carthew Lake crosses a patch of snow.
The remarkable red rock outcropping made a good place to stop and look around. But they had to wait a little longer because Rod discovered a young marmot playing around in a bush.
This young marmot was nibbling on an evergreen shrub, which didn't look too appetizing, but maybe you have to be a marmot. Mainly, he seemed to be just playing, and didn't seem to mind my presence.
Index
1995
Carthew Trail Map