The Carthew Trail
August 14, 1995
Jeff and Darla up on the Carthew Trail. The trail runs for a mile or so alongside a steep ridge, and at this location there was a remarkable collection of bear grass. Brenda and Rod were delighted to finally make it up here with Jeff and Darla. We had sent them up here on their honeymoon, jokingly extracting the promise from them that they had to come back and do the trail again with us. Now that dream was coming true, and we were high in spirits as well as elevation.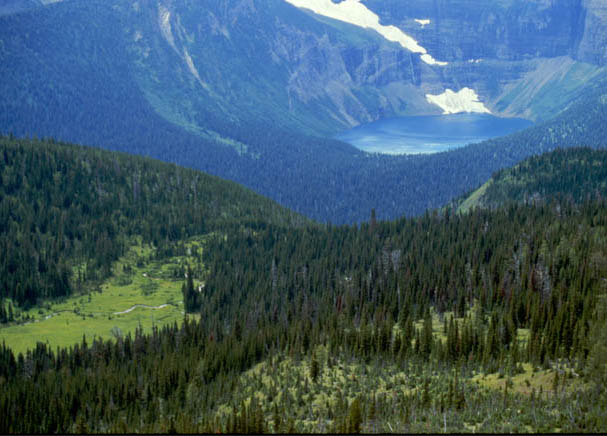 Wurdeman Lake is one of the delightful pocket lakes high in the mountains. You have to come up on the trail to see it - and it is so beautiful, it is worth the hike just to see it. On the trail, the Boundary Creek shown at left comes into view first, and then the lake gradually comes into view.
Moving on up the trail, you get a straight view of Wurdeman Lake and then the smaller, higher Nooney Lake comes into view, shown at extreme right.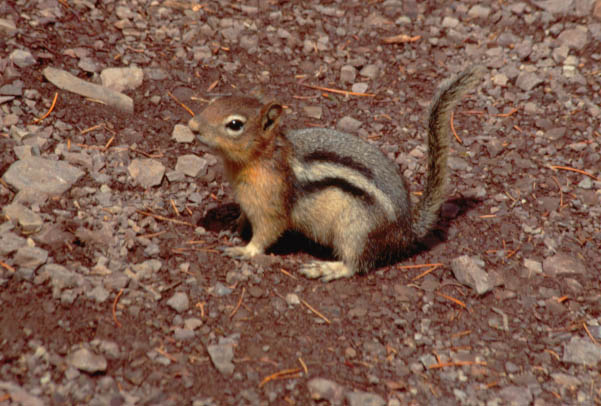 There is enough traffic on the trail during the summer that the squirrels become tame and opportunistic. This one put on quite a show for Rod as he lagged behind the others, taking pictures.
Watching the changing perspectives of Wurdemann and Nooney Lakes as we climbed kept us on a high! They were so beautiful in the bright sunshine that it was hard to believe!
As we finally reached the top of the ridge at about 8000 feet, we could look down and see Cameron Lake nestled in a pocket of the mountains. We had started out from Cameron Lake, and the perspective of the lake from our starting point was so different that it was hard to believe it was the same lake. It was a day of amazement at the beauty and majesty of the area. We were just praising the Lord and singing along the trail.
As we started downward from the high point, we crossed wide regions of red scree rock. This marmot was out in the open on the scree, and didn't seem to mind our presence. We saw several marmots playing around.