Warren and Sue's 50th Anniversary
September 3, 1995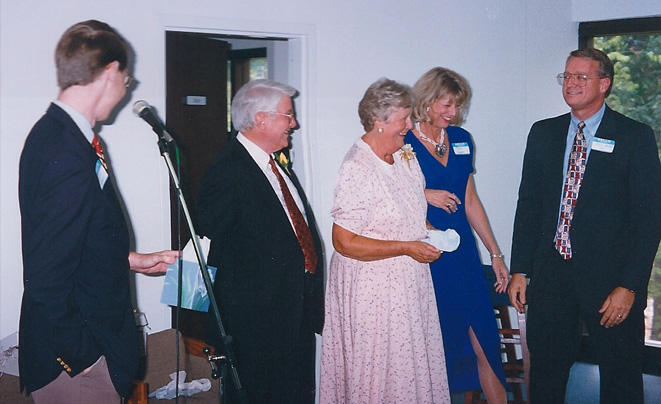 We had a great celebration of the 50th Anniversary of Warren and Sue Woolf! Susan, Bill and David helped bring together a tremendous collection of old friends for the occasion.
The children had collected a book of letters from many former Tech BSUers and other colleagues and friends. It was a great time of fellowship.
We have enjoyed seeing Norman and Barbara Petty fairly often, but it had been years since we had seen Charlie Collum! Perhaps the last time was in Germany when we visited them there in 1967!
| | |
| --- | --- |
| | Eddie Hooper and Art Sherwood with David Woolf |
| | |
| --- | --- |
| R. B. Coulter and Mike Fernandez | |
| | |
| --- | --- |
| | Billy Nowell and Jim Tanner |
| | |
| --- | --- |
| Becky Rollins and Barbara Petty with Duncan Sinclair in background. | |
| | |
| --- | --- |
| | Warren with Rod Nave, Sue in background. |
| | |
| --- | --- |
| Debbie and Charlie Collum | |
| | |
| --- | --- |
| | Nancy and Gary Bonds |
| | |
| --- | --- |
| Sandy and Eddie Hooper with Brenda Nave | |
| | |
| --- | --- |
| | Butch and Brenda Henderson |
| | |
| --- | --- |
| Betty and Henry Fields | |