Renovation of Jeff's Office
March 17-20, 1997
Rod launched out to New Orleans on March 17 after his last class to begin a week's work on Jeff's office at Williams Boulevard Baptist Church. Brenda followed in the van on Wednesday, March 19. The above shot is typical of the air traffice at Atlanta's Hartsfield Airport. A plane is landing on one runway as Rod's plane turned to join the queue for takeoff on a parallel runway.
It was a clear day and gave nice views of the Atlanta skyline. You can see the Georgia Dome just above the central downtown district. At mid left you can see the gold dome of the Georgia Capitol Building and just to the right of that is the Georgia State University campus.
Above is a view of downtown New Orleans and the Mississippi River as Rod's plane approached the New Orleans airport. Heading toward the Superdome is I-10, while at the bottom of the shot is I-610 which heads westward toward Kenner and the Williams Boulevard Baptist Church. The airport is just west of the church.





When Brenda arrived on the 19th, she went right to work. She and Darla worked on tarps in the gym of Williams Boulevard to stain the molding for Jeff's office.
Rod is setting up a router to do trim work on the drawer fronts for the desk in Jeff's office.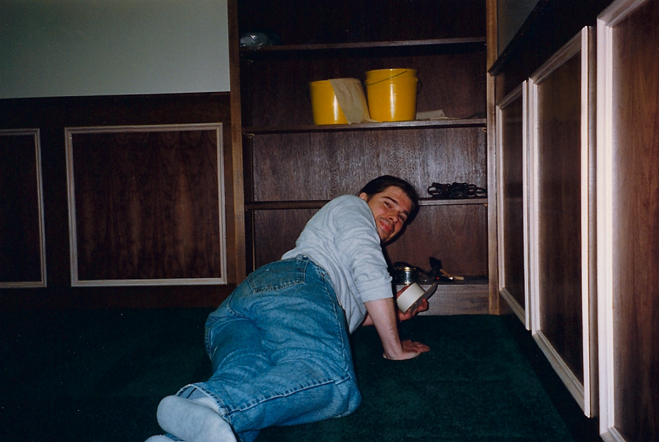 Jeff is adding some finishing touches to some of the trim work in his refurbished office on March 20. We had made a lot of progress.