Missing Fundamental Effect
The subjective tones which are produced by the beating of the various harmonics of the sound of a musical instrument help to reinforce the pitch of the fundamental frequency. Most musical instruments produce a fundamental frequency plus several higher tones which are whole-number multiples of the fundamental. The beat frequencies between the successive harmonics constitute subjective tones which are at the same frequency as the fundamental and therefore reinforce the sense of pitch of the fundamental note being played.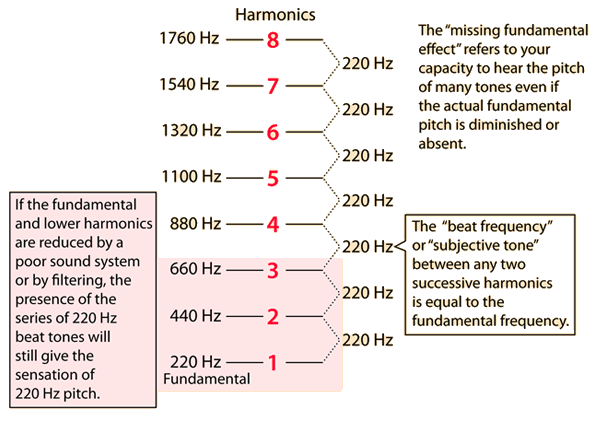 If the lower harmonics are not produced because of the poor fidelity or filtering of the sound reproduction equipment, you still hear the tone as having the pitch of the non-existant fundamental because of the presence of these beat frequencies. This is called the missing fundamental effect. It plays an important role in sound reproduction by preserving the sense of pitch (including the perception of melody) when reproduced sound loses some of its lower frequencies.
The presence of the beat frequencies between the harmonics gives a strong sense of pitch for instruments such as the brass and woodwind instruments. For percussion instruments such as the cymbal, the sense of pitch is less definite because there are non-harmonic overtones present in the sound.