Atlanta Man Accidentally Shoots Himself
December 10-14, 1988
We started December with knee surgery for Mark from a soccer injury, and he is in his bed with a CPM machine, exercising his knee and working on his computer.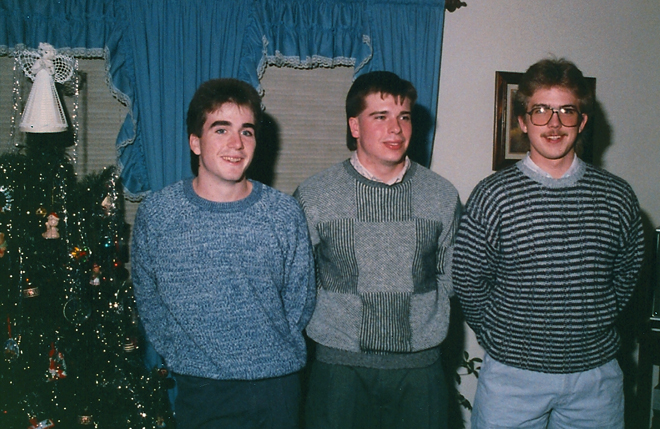 Mark felt up to traveling, so putting him in the back of the station wagon in his long-leg brace, we took off to Kentucky to visit Edgar and family and Orvetta. Mark and Jeff here with Paul Nave.
Sherri Nave joins the guys.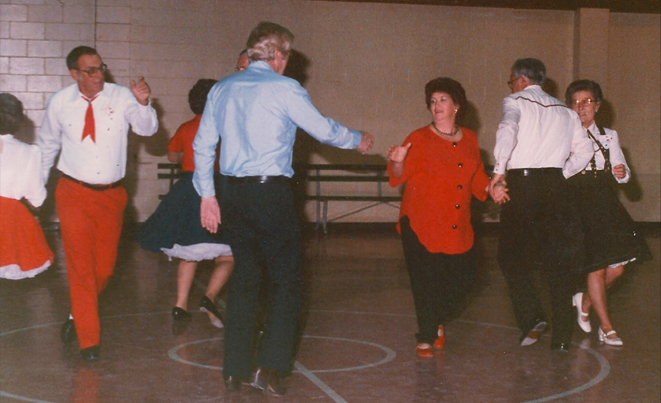 Edgar has kept up his interest in square dancing, and here is a part of a dance at a local gymnasium.
Paul, Jeff and Mark went out to do some target practice with 22 pistols. While practicing quick draws to shoot at some cans, Jeff shot himself in the leg with a 22 pistol. They came back to the house saying that Jeff had shot himself, and we put him in the back of the station wagon for a wild ride to the Daviess County Hospital in Owensboro. After xrays and receiving a brace, he heads down the hall with Mark, Paul and Sherri.
| | |
| --- | --- |
| | The xrays showed that the bullet had punched through the small bone in Jeff's right leg near the knee. It punched a hole in the head of the fibula. You can see the lead fragments from the breakup of the bullet after passing through the bone. The bullet came out in his shin area but fortunately missed his shin bone and missed his foot. The thing that made the doctors cringe was that it just barely missed the major peroneal nerve in his leg. He did not lose much blood, but we were concerned with the hole through the bone as a location for possible bone infection which is hard to control. The doctors took that risk seriously and provided him with strong antibiotics and kept him for a couple of days. |
Jeff gets a visit from the whole crew once they had finished all the xrays and antibiotic treatment, etc. He was in the room with a guy who had a serious burn from a deep frier at the restaurant where he was working. He immediately dubbed Jeff "Quickdraw" and Jeff retaliated by calling him "Crispy". I guess it's good to see the humor in any situation, and Jeff is inclined to do that.
I guess it is good for Jeff to get a little sympathy from Sherri, since he took so much ragging from "Crispy" and others. Actually, we treasure this picture of Sherri.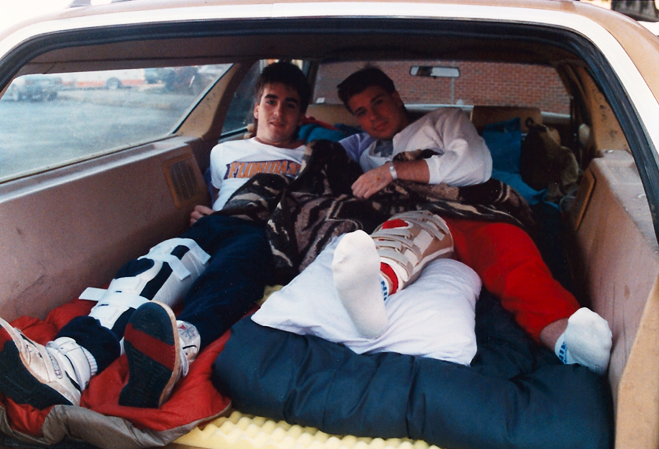 Jeff spent a couple of days in the hospital in Owensboro, having to endure the moniker "Quickdraw" from nurses and family alike.
With Jeff dismissed from the hospital, we loaded both he and Mark in the back of the station wagon with their respective long-leg braces and headed for Atlanta. We went with one guy in a long-leg brace and came back with both Mark and Jeff stretched out in the back of the station wagon in braces.
We were glad to arrive home with both guys safe and --- well, potentially sound after appropriate healing times.