Christmas at the Moyle's
We enjoyed Christmas morning at the Moyle's. They have been very gracious to include us.
On the second day of Christmas ...
Two Grandpa's reading ... and a partridge in a pear tree?
Anyway, Jordan and Ashleigh always like to be read to. Even on Christmas morning.
Part of the Moyle tradition is to have stockings on the fireplace for each family member. Ashleigh and Jordan plunge right into this, but Jordan seems a bit overwhelmed at the moment.
Both of them are soon totally immersed in the process.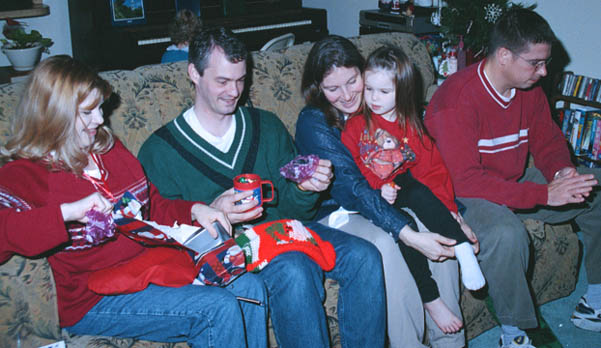 Leslie and Jeff Moyle and Darla and Jeff Nave with Ashleigh in the process of opening their stockings.
One of the favorite things for the children is Judy Moyle's Christmas village and train.
Finally the family gathers in the living room with the Christmas tree for the exchanging of gifts. Judy Moyle with Robbie and Diane observe as the little ones help give out the gifts. Ashleigh hands a gift to Bethany.
| | |
| --- | --- |
| | Grandma leaves the festivities long enough to read a story to Ashleigh. |
At the end of a very enjoyable day at the Moyle's, both sets of grandparents gather with Jeff, Darla, Ashleigh and Jordan.