Elyse Nicole Nave
Born December 26, 2004
Some time after midnight we heard Jeff and Darla stirring. Darla's contractions were 6 minutes apart and they headed out for the hospital in New Orleans. We prayed for their safety on this extremely rare icy night. Elyse Nicole was born about 5:50 AM.
A little after six, I saw both Ashleigh and Jordan heading down the hall to Jeff and Darla's bedroom. They came back to the room where we were sleeping to say "We can't find Mommy and Daddy anywhere." They weren't particularly alarmed and were very excited when we told them that they had gone to the hospital to have the baby. Within minutes, Jeff called to tell us that Elyse had been born. Brenda put Ashleigh and Jordan on the phone so that Jeff could tell them about it.
Although it took us a while, we got the girls and us ready and headed out for New Orleans. I had to scrape hard ice off the windshield of the van - extremely rare to have to do that in Pearl River! The expressway path to the hospital was closed due to icing, and Jeff directed us down Causeway Blvd. We found it also closed and followed a circuitous path to the hospital with the help of directions along the way.
When we made it to the hospital Jeff met us in the lobby. We had decided to give him and Ashleigh and Jordan a 15 window before Brenda and I went up. We wanted he and Darla to have the time to show Elyse to the big sisters with just their family present. Then we went up and got our first view of Elyse in the nursery as the nurse was preparing her to go to the room with Darla.
| | |
| --- | --- |
| | It was a time of joy and excitement for Ashleigh and Jordan. Jeff and Darla had prepared them well and were careful to reassure them that they were loved and valued in this process. The girls were especially glad to see Mom. |
Jordan had a cough, so Brenda helped her put on a mask for protection so she could get a close look at Elyse as Jeff held her.
| | |
| --- | --- |
| | Jeff had been scheduled to preach the morning message at Northshore Baptist Church, but something of higher priority came along this morning. |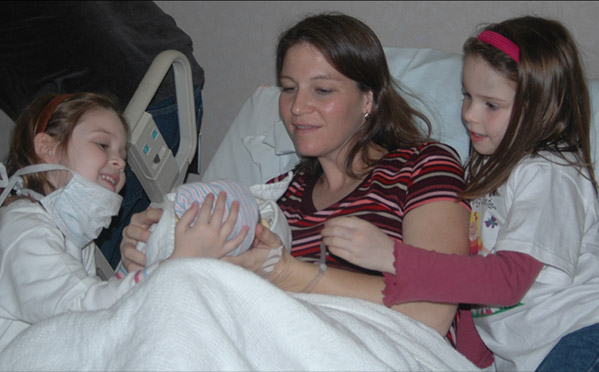 | | |
| --- | --- |
| | Jordan and Ashleigh had attended a "big sister" class at the hospital and could tell us a lot about what they could do to help Mom with their baby sister. This certainly looks like a good start. |
| | |
| --- | --- |
| | Jeff and Darla had gotten special gifts to give to Jordan and Ashleigh at the hospital. They were special Christmas tree ornaments that they could hang each year in remembrance of Elyse's birth. |
Both baby and mother seemed to tolerate all this attention and celebration well, certainly considering that Elyse was less than 10 hours old at this point.
Both sets of grandparents were present on the day of Elyse's birth. Judy and Brenda looked a lot better holding Elyse than Dave or Rod would have.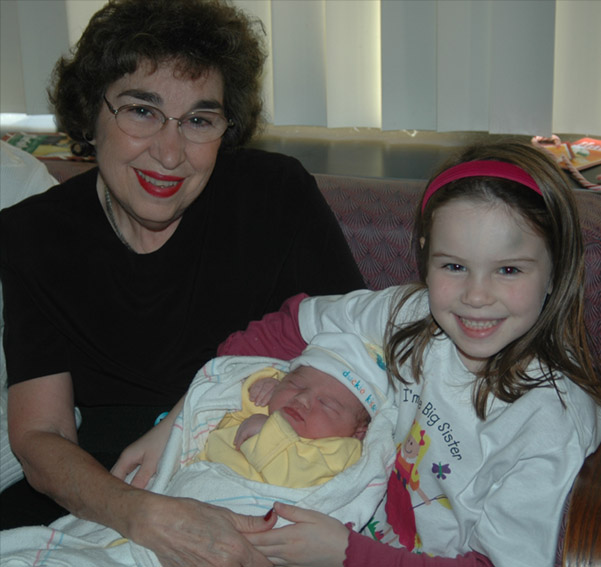 A day of great joy at the arrival of Elyse Nicole Nave, an event which Elyse herself peacefully slept through.