Christmas Day at the Moyle's, 2004
After the Christmas story was read and stockings were presented at Jeff and Darla's, we drove to the Moyle's for a Christmas day gathering there.
| | |
| --- | --- |
| | Diane and Robby had preceded us at the Moyle's. Robby sat down with Ashleigh to read a book. |
| | |
| --- | --- |
| After a fine brunch we gathered in the family room for the presenting of the Christmas stockings. Five of the Moyle's seven grandchildren were present. Here Ashleigh, Jordan, Bethany and Lindsey play happily with the contents of their stockings. Dave and Leslie look on. | |
This is the entire group joined for today's celebration. The front row across L-R: Jeff Nave, Leslie, Bethany,Jordan, Ashleigh, Diane with Caleb, Robby. Back row: Jeff Moyle, Lindsey, Brenda and Rod, Judy and Dave, Darla.
The Christmas tree with stacks of gifts was in the living room. Ashleigh awaits the time of gift giving.
| | |
| --- | --- |
| It was our privilege to again join Judy and Dave and their family for the Christmas celebration at their church last night and then for the fellowship of Christmas day. | |
| | |
| --- | --- |
| | Jordan and Leslie look on as Bethany opens one of her gifts. We all gathered around the tree for the time of gift giving. |
Ashleigh immediately starts to read a book she got as a gift. She is an amazing reader. Brenda shows off a Thomas Kinkade mouse pad.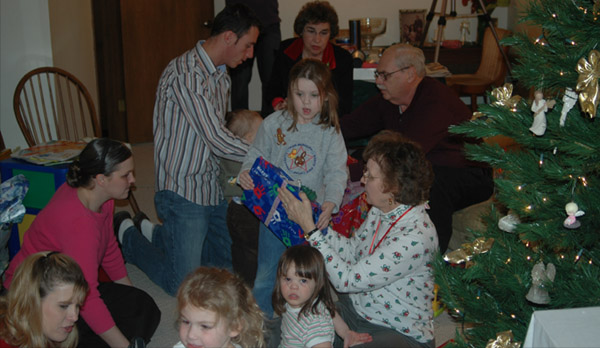 Soon the living room was buzzing with the excitement of the exchange of gifts. The roll call was Dave and Judy Moyle, Jeff and Leslie Moyle with daughters Bethany and Lindsey, Jeff and Darla Nave with Ashleigh and Jordan, Diane and Robby Wells with Caleb, Rod and Brenda.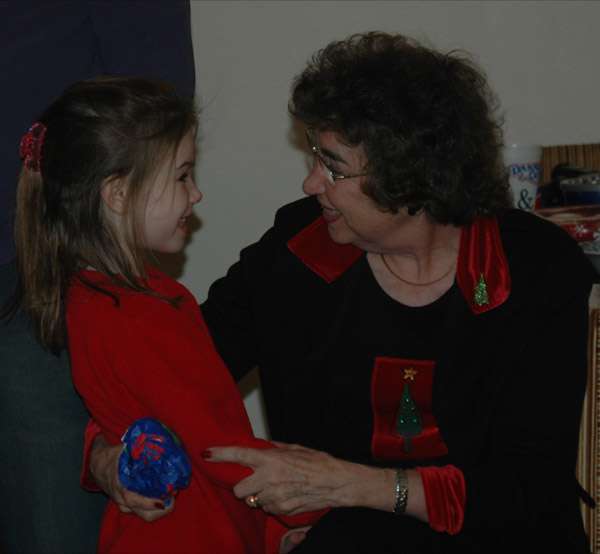 Ashleigh shares her excitement with Grandma Brenda.
Grammy Judy with her two youngest grandchildren, Lindsey and Caleb.
| | |
| --- | --- |
| | Brenda watches Lindsey, who is old enough to show a lot of personality this year. Darla made it through Christmas day as we expect her to go into labor any day - so we look forward to another grandchild for next Christmas' gathering. |
| | |
| --- | --- |
| Jeff assembles the soccer game with a little help from Rod. Bethany, Darla and Ashleigh give it a try. | |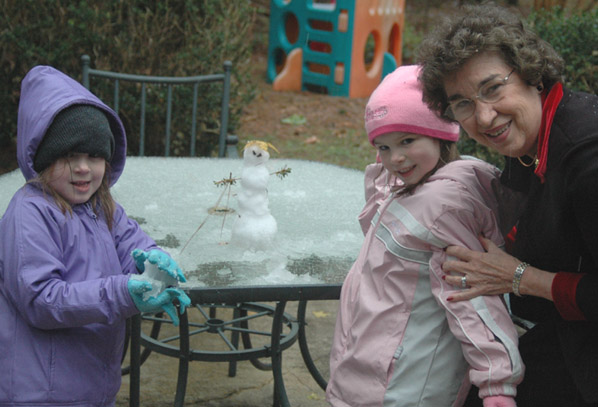 | | |
| --- | --- |
| | We had enough snow and sleet on Christmas day to cause excitement among the children. We made a tiny snowman and had snowball fights in the yard. |
It is a rare experience for New Orleans girls to get to play in snow. Ashleigh, Jordan and Bethany got to make snowballs and throw them at anybody within range.