Christmas in Pearl River
December 23 to Christmas Morning
Christmas Eve
Brenda at Jeff and Darla's front door with Ashleigh and Jordan on Christmas Eve. It was unusually cold for the New Orleans area and they were bundled up to go outside to take gifts to the neighbors.
| | |
| --- | --- |
| | We went to the Moyle's after the service for the traditional Christmas Eve party with their church friends. Jordan and Ashleigh and the other grandchildren love the train and village which they set up by the Christmas tree in the living room. |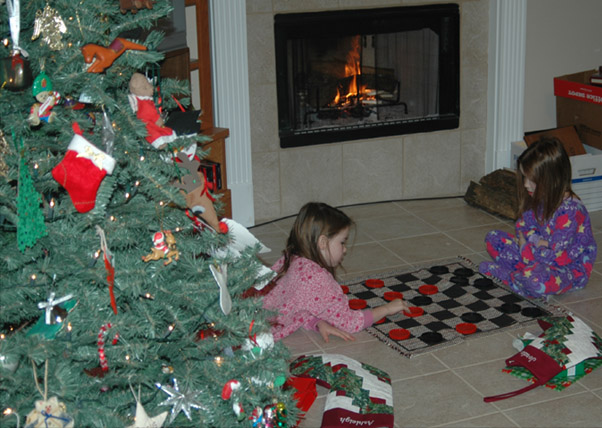 Christmas Morning
| | |
| --- | --- |
| | This was the first Christmas in their new home, so Jeff and Darla and the girls wanted to have their stockings hung on their fireplace and to start a Christmas tradition at home. One of the presents for the girls was a large checker game from Cracker Barrel. Ashleigh and Jordan had loved playing checkers at Cracker Barrel when they went for breakfast. |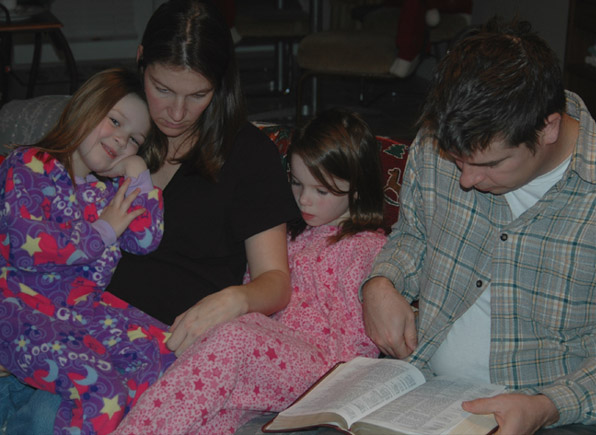 One thing they wanted to keep as part of their Christmas tradition was to read the Christmas story from the Bible as a family before any exchange of gifts and talk about the reason for Christmas. This year Ashleigh also read the story from one of their Bible story books.
| | |
| --- | --- |
| In addition to the Christmas tree, there were the stockings hung on the fireplace and the collection of manger scenes on the mantle. At right Jordan examines some of the things in her stocking. The girls opened a few gifts from our family before going out to the Moyles for the bigger gathering. | Stockings include one for the new baby to come. |
| | |
| --- | --- |
| Gifts for Ashleigh and Jordan from under the tree. | |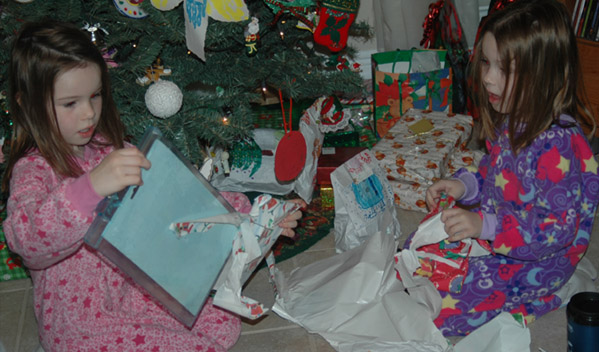 | | |
| --- | --- |
| | Jeff examines a toy helicopter as a part of the early morning fun. |
Jordan brought a gift to Grandmother that she had picked out at the Awana gift shop.