Tuolumne Meadows
August 8, 2004
Darla points out the prairie dogs to Ashleigh and Jordan as she and Brenda take the girls onto the Soda Springs Trail in the Tuolumne Meadows.
The junior rangers tried their footing on a fallen log along the trail.
We got views of the Tuolumne River against the mountain background a short distance down the trail.

A wide view of the Tuolumne River to the left of the trail shows the mountains in the background.
Closer view of the river. There were a lot of people exploring the meadow on this Sunday afternoon.
Jordan on the trail with a background of the Tuolumne River in the opposite direction.
Darla and Jordan along the river.
Spots of unbelievable beauty greet you all along the trail through the meadow.
Looking back the opposite direction on the Tuolumne River finds a group having a picnic with this magnificent backdrop.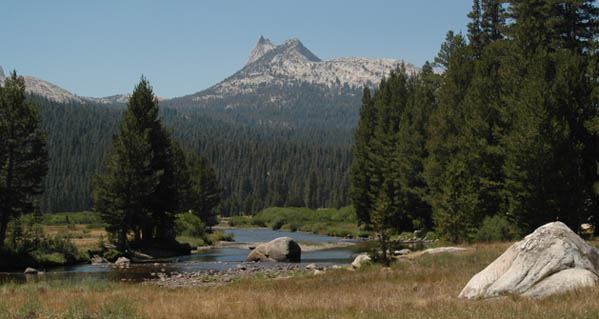 We saw several backpackers cross the river just beyond where the large rock seems to center on the river. It must be a great place to hike and camp, but they told us that the temperature had been 38°F this morning.
| | |
| --- | --- |
| | The end of our short hike was at Soda Springs, where carbon dioxide bubbled out in active springs over an area maybe 20x20 feet. There is obviously a lot of iron in the water, something not evident in the surrounding granite rock. We heard tales from the Rangers and others who were native to the area about drinking from the springs when they were growing up. Making carbonated coolaid from it was one of the tales. Jeff sampled it and pronounced it very irony. |
| | |
| --- | --- |
| Around the small carbonated springs were white deposits on the rocks. The carbon dioxide bubbled up through the water. | |