Costa Rica Meeting
September 7-8, 2006
We went to Costa Rica for Rod to participate in an international meeting on Concept Mapping as an educational and communication tool. But before the actual meeting, we visited the butterfly garden just across from Si Como No on Friday, September 1, the day we arrived in the Quepos area and again on the day we left, Monday September 4. While staying at the Si Como No, we visited the Carara Biological Reserve and Manuel Antonio park. After returning to San Jose, we made a visit to the Butterfly Farm on September 5, to Volcan Irazu, the Orosi Valley, and Lankester Gardens on September 6, and finally settled down in San Jose on September 7 for the two day professional meeting.
| | |
| --- | --- |
| | We had excellent weather for our week of exploration, for which we were very grateful. We had heard tales about how hard it could rain here in Costa Rica. On this day back in the Palacio Hotel in San Jose we had torrential rain, but we were planning to be inside anyway for the start of the meeting. |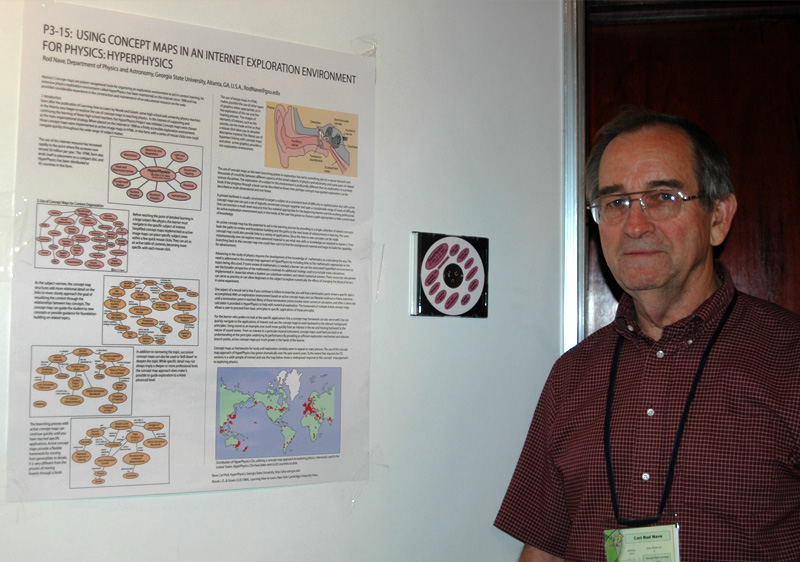 | | |
| --- | --- |
| Rod's presentation to the Concept Map meeting was a poster presentation of some aspects of the HyperPhysics site, which he hoped might be of some benefit in Spanish speaking countries as well as English. It was developed with major use of Concept Maps, and that was the main subject of the meeting. | |
As an international meeting on concept mapping, the meeting was conducted as a dual-language meeting for both English and Spanish speakers. I did enjoy the meeting sessions, for which each participant was issued earphones. The single most impressive thing about the meeting was the young lady who sat by the stage and translated for the speakers. If the speaker spoke Spanish, she translated to English and vice-versa. I could not believe that she could handle it both ways and track the talks of a technical meeting. I would have thought her head would explode!
| | |
| --- | --- |
| | The sun did come out again on the 8th and we got to enjoy our balcony for a while before leaving for the airport. |
| | |
| --- | --- |
| Even though San Jose was a crowded city, within moments of being airborne from the San Jose airport we were over green fields and in view of the mountains. | |
| | |
| --- | --- |
| | This was probably the main road out of the city to the west. At least it looks like the road we followed for a while when we left on our flight to Quepos on Sept 1. |
| | |
| --- | --- |
| Soon we were up in the clouds and just getting glimpses of the ground. But those glimpses were fascinating - it looked like jungle with rivers. | |
| | |
| --- | --- |
| | The visibility was not good, but it was fascinating to see the rivers and lakes and jungle. |
| | |
| --- | --- |
| With river and jungle views, I was quite satisfied and settled into my reverie at seeing the beauty of the Earth from the sky. We were soon back in Atlanta. | |
Index
2006
Costa Rica