Knees In the Sand
Children's Camp, First Baptist Mableton, at St. George Island, Florida
Thursday, August 3, 2006
After the surf time, we moved about a mile down the beach where a beach fire had been prepared.
| | |
| --- | --- |
| | We had songs and stories around the fire and then the marshmallows were brought out for roasting and making smores. |
Last Night in Camp
Water War!
With his water cannon, Russ seems to have the largest calibre weapon, but he is considerably outnumbered!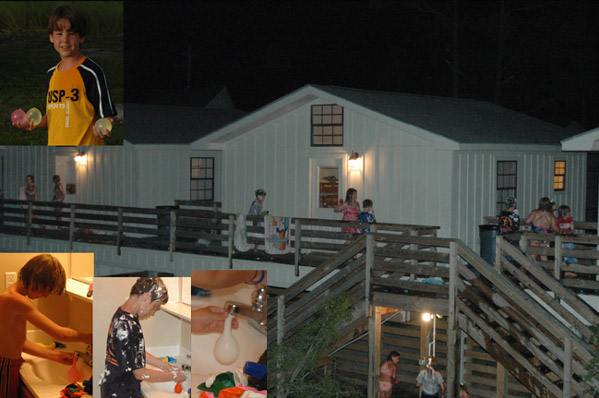 | | |
| --- | --- |
| | Russ doesn't know what he is in for! All around the campus, weapons for selective soaking are being developed. He can't even count on his adult leadership - Brad is busy tying off water balloons for the combatants. |
Where did these girls get all this shavecream to do battle with?! Looks like further evidence for adult complicity. Russ nails Nala as she heads off with a large container of shave cream.
| | |
| --- | --- |
| | Even though the shave cream was used in battle, it was sometimes done creatively. |
Just as Russ seems to be thinning out the opposition with his big gun, new combatants enter the fray. Is that Pat Peal nailing Russ in the back, washing off some of his accumulated shave cream?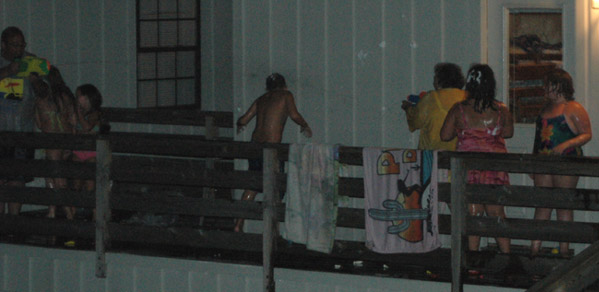 Uh Oh!! This is a high calibre face off! The smaller combatants scurry for cover - or to find more ammunition.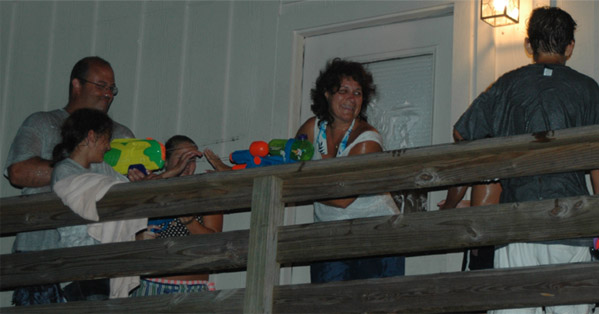 Derinda enters the battle with a high calibre weapon, but Russ still seems confidant! Nobody, however, is dry! Is Russ getting desperate? Has he taken his own niece as hostage? He had better watch his back! Oh, No! It looks like the twin White threat has him on the run. Is nobody loyal to our fearless Camp Director? At this point it looks like Kelsey and Ansley rule! If we are leaderless, then things may descend into anarchy. But Russ is back! Eventually a ceasefire was obtained and the combatants laid down their waterballoons and shave cream cans. And most people got at least a little sleep.
Knees In the Sand
Children's Camp, First Baptist Mableton, at St. George Island, Florida
Friday, August 4, 2006
We are up, have had breakfast and packed the luggage in the trailer. We have just gathered in the movie room to watch the remarkable DVD that Mark Haney produced as a remembrance of this year's Camp.
Prayer is asking God and thanking God. We ask for a safe trip home and a remembrance of the things God has done in our lives this week. And we thank God for the joys and the experiences of the week.
That's it, right? You sleep on the way home, except for the drivers of course. But there are always opportunities to show kindness, good will and consideration. We stopped at the Krystal's in Moultrie and took thirty kids in there for lunch. We sat the kids down and they were very well behaved and considerate. Our adults cycled the food to the tables and did our best to make sure we weren't greatly inconveniencing any of the other people there. I got several joking comments about the number of kids, but they seemed appreciative of the behavior of our group. Just as we were sitting down, we smelled a strong hot odor from the kitchen and soon heard the wail of fire engines.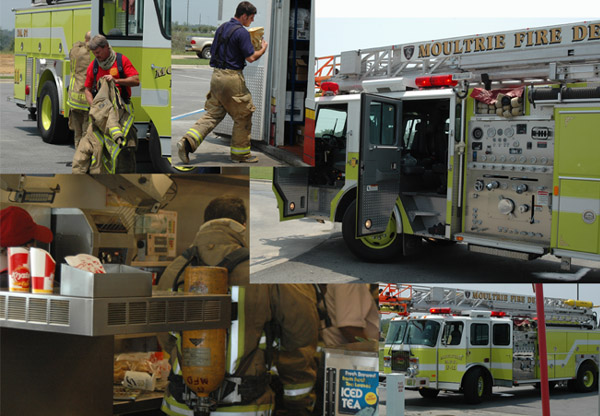 There was apparently a major electrical problem with one or more of their cookers, and although we didn't see any fire or smoke, they were in the process of shutting down the Krystal. We were finishing up and rounded up our kids into the vehicles. As I went back in for a final check to make sure we had everybody, the understandably stressed manager thanked me for our group and asked me about our camp. She shared a bit with me about her church and the things they did with their children.
Index
2006