Newport High School 50th Reunion, 1957 Class
October 20-21, 2007
| | |
| --- | --- |
| | Our banquet was at the Newport Country Club and featured this huge greyhound cake. We continued the fellowship of our morning gathering. |
| | |
| --- | --- |
| Sue Carter Tiffany, Marcus and Joy Foll Beard, Rodney Nave. | |
| | |
| --- | --- |
| | John and Gail Clark, Bill McMillan, Imogean Fisher Falwell |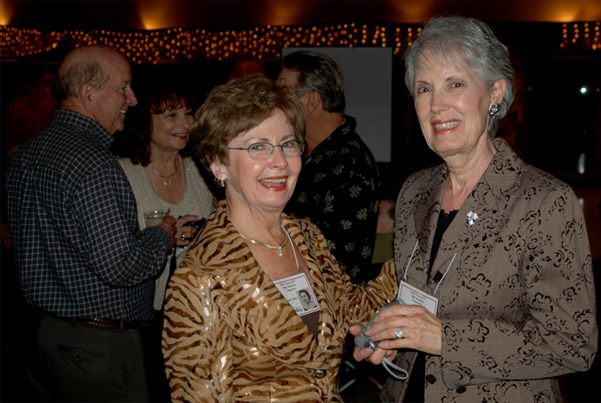 Mary Winston Carter and Katherine Watts Finley. In background are Russ Morton, Peggy Gardner Watson and Bootie Alvis. L: Charles Sonny Lane and Henry Burge, R:Otha and Mary Ann Compton Frizzell. L:Joan Waddill Helms and Boyce, R: Earl Rawlings, Bootie Alvis L:James and Carolyn Pettit, R: Gaynelle and Earl Rawlings. L:Donald Stamps and Mitzi Castleberry Phillips, R: Julia Holt-Foll and Joy Foll Beard. L:Ralph Ponder, Bootie Alvis, John Burgin, R: Bill Harris, ? Left: Shirley Wood Baker and John Baker, Right: Norman and Donna Green L: Peggy Gardner Watson and Mary Winston Carter, Right: Betty Robinson Haigwood

In a reprise of their roles in the NHS Graduation 50 years ago, Rodney Nave and Sue Carter Tiffany made remarks. Sue had gone through the 50th Reunion Directory with a fine tooth comb and gave the summary below of some of our activities since graduation.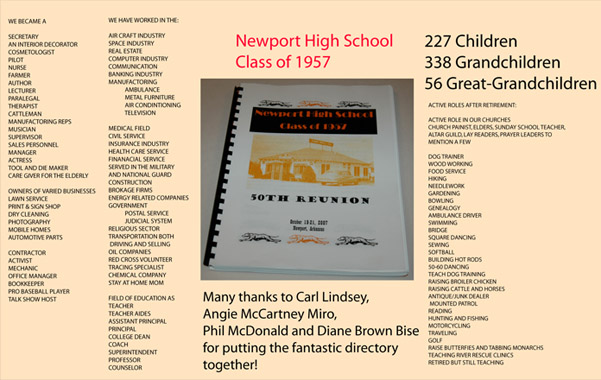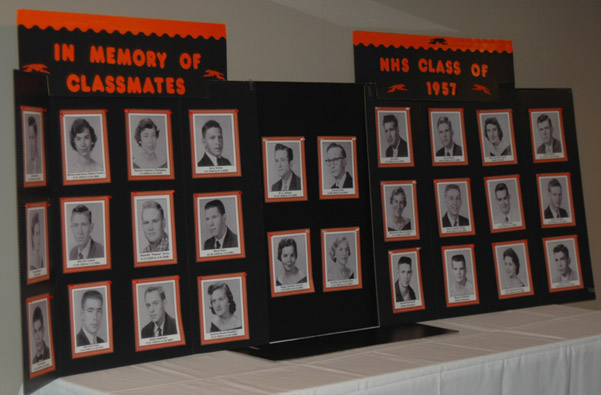 Tom Fife and Diane Brown Bise led us in the tolling of the bell in remembrance of classmates from the Class of 1957.
Mary Winston Carter and Phil McDonald added remarks and recognitions as a part of our banquet program. Thanks to them for their major roles in making all this happen.
Help! There are undoubtedly omissions and mistakes in these documents, and I haven't been able to identify everyone. So if you see a mistake or have information or a suggestion, email me at rodnave@gsu.edu . And if you would prefer that your photograph not be included here, I will honor that as well.
Index
2007