RA Overnight at Bent Tree
November 9-10, 2007
Evenor and son Isai, Kevin Bartlett and son Grayson, Angel and son Chris, Javier Lopez and son Kevin, Johnny Huffman. We had a beautiful weekend for an overnight at Bent Tree. The tree colors were the brightest I have ever seen at Bent Tree.
We drove to Bent Tree on Friday night and Brenda had fixed a supper of hot dogs and chili. The boys enjoyed a wild game of pingpong before and after supper.
| | |
| --- | --- |
| | Uno has become the favorite nighttime game on these outings. Dominoes, chess and checkers were also tried. All four boys later got into a pingpong battle, and pingpong balls were flying everywhere. It was a relaxed time, and a good time for Angel, Javier and Evenor to just sit and talk. |
Brenda fixed a breakfast of eggs, bacon, sausage gravy, etc., so everyone had a good breakfast before our hike.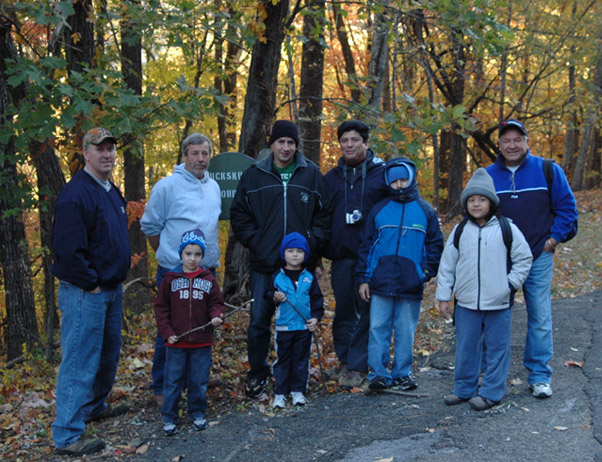 Our traditional picture at the Buckskull Court sign as we head out up the mountain. This was the same place I photographed a bunch of wild turkeys last week. The comparison was tempting.
| | |
| --- | --- |
| | The trees downhill from Chestnut Cove Trail were spectacular as we started up the mountain. |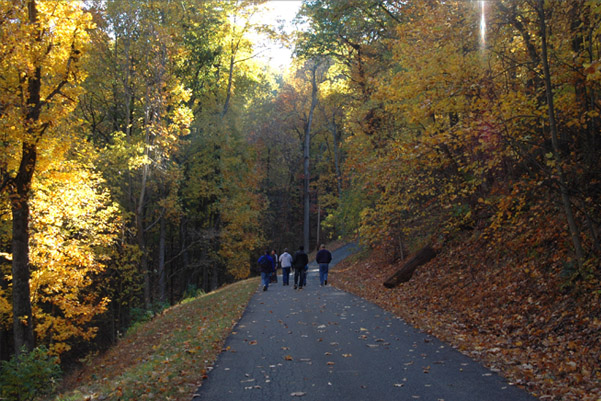 Kevin and Grayson Bartlett with Isai on the steep slope we took above Chestnut Cove Trail. About halfway up we took a water break. Isai, Grayson and Chris sit on an old chestnut log.
More water! Climbing this steep mountain slope makes you thirsty. Angel with Chris and Kevin Lopez take a break at the water stop.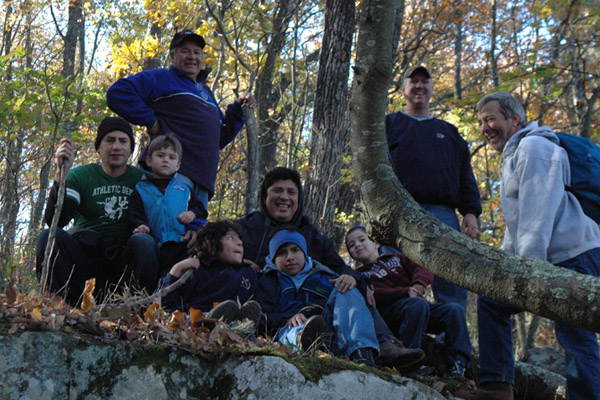 Once we got to this rock ridge about two thirds of the way up Big Stump Mountain, we had conquered the steepest part of the climb.
| | |
| --- | --- |
| Above the rock ridge, we kept a good pace through the woods toward the top of Mt. Oglethorpe. | |
| | |
| --- | --- |
| With encouragement from Johnny, Chris has a go at climbing a bent tree up on the mountain. Overcoming his fear of heights, he makes a good climb. | |
Chris's father Angel also makes the climb up this tree, above left, and Evinor pulls himself up by a limb and gets further out on the tree, above right.
| | |
| --- | --- |
| | Kevin watches closely as Grayson has a go at our old favorite climbing tree. This view shows the nice woods we were in with the trees dressed up in fall colors. |
| | |
| --- | --- |
| We made it to the peak of Mt. Oglethorpe at 3200 ft and were rewarded with a nice view of one of Big Canoe's lakes from the overlook. | |
Isai and father Evenor on the Oglethorpe Mountain overlook. From there you could see distant mountains to the northeast. We spent some time looking around and went through a whole bag of apples as we rested at the overlook. Isai was the youngest member of our group, but he was a great hiker. He skipped right up the mountain and down again, singing most of the way.
This was Grayson's first RA hike up Mt. Ogtlethorpe. Dad Kevin had been up to Bent Tree with our son Jeff and friends many years ago.
We were privileged to get this great view of Bent Tree's Lake Tamarack when the residents of the house by the water tank invited us up to their deck. This was the first time I had gotten this view.
Thanks to the hospitality of t hese folks, we got a group picture with a beautiful overlook of Lake Tamarack.
The group heads down the steep slope behind our house on the last stretch of our hike. This hill is always surprisingly steep, and loose rocks tend to land you on your bottom.
| | |
| --- | --- |
| | Javier and Kevin coming down the steepest part of the slope behind the house. It seems like your are looking right down on the roof of the house from that point. |
| | |
| --- | --- |
| Javier and Kevin, Evenor and Isai in a hollow tree just above the house. Everyone had made it down the steep slope alive. | |
We traveled to Lake Tamarack to have lunch. We could see the peaks of Big Stump Mountain and Ogtlethorpe Mountain where we had hiked this morning. It was a great day for a father and son hike. Javier takes a picture of Angel and son Chris.
| | |
| --- | --- |
| Johnny is working on the sandwiches and we have our usual lunch of gourmet peanut butter and jelly sandwiches by the lake. Followed by Brenda's brownies of course. | |
| | |
| --- | --- |
| Of course the boys had to throw a few rocks in the lake, and we spent a little time exploring down by the waterfall before we headed for home. We stopped on the dam for our traditional exit picture. Lake Tamarack was really putting on a show with its fall colors. Thank the Lord for safety, and for a beautiful day for a father and son hike. | |