Family Trip to Nashville
November 18-20, 2007
The ICE Exhibit
| | |
| --- | --- |
| | In Nashville on Monday afternoon, November 19, we put on our parkas and entered the exhibit of ice sculptures. Ashleigh, Elyse and Jordan react to the 10°F cold of the exhibit. Everything around us was made out of ice. |
| | |
| --- | --- |
| We went through an igloo-like ice tunnel and into the world of the Grinch. The general theme of this year's exhibit was the Dr. Seuss story "How the Grinch Stole Christmas". Jeff, Darla, Elyse, Ashleigh, Jordan and Brenda -- and the Grinch in the background! | |
We moved through the ice village where the Grinch wrought his mischief.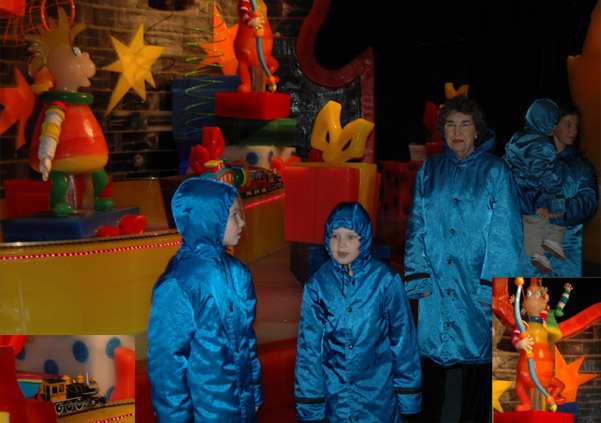 A toyland where everything was made of colored ice.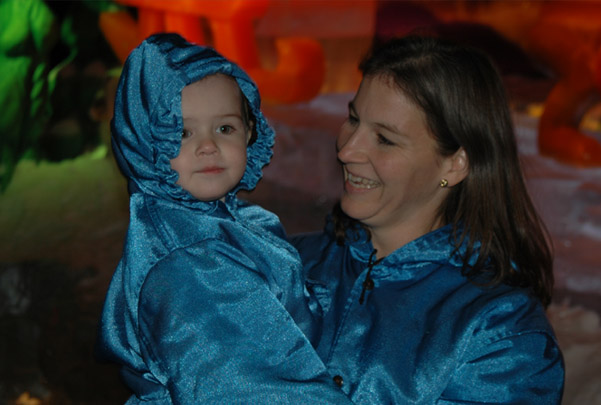 Elyse is a good traveler who seems to enjoy everything. She didn't seem to be bothered by the cold.
| | |
| --- | --- |
| | Ashleigh and Jordan enter a new area through a colorful ice tunnel. Here they saw enacted in ice the story of the Grinch and Christmas. The left two images above show the Grinch stealing all the "things" associated with Christmas, the food, the gifts, the stockings. Bad Grinch! The right image shows the Grinch looking down in amazement that the people of the village were singing songs of joy at Christmas, that the loss of the "things" didn't keep away the meaning of Christmas. |
| | |
| --- | --- |
| Darla comes hurtling down the ice slide below. Brenda with Elyse at one of the ice sculptures. | |
The ice figures above and below with Ashleigh, Jordan and Darla show the happy ending to the story. The people of the village invite the Grinch to Christmas dinner.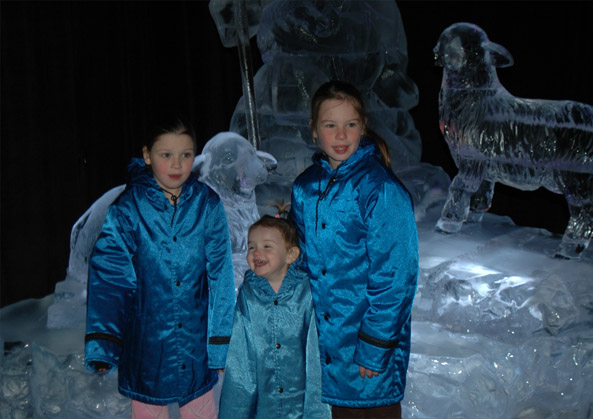 The last part of the ice exhibit was a depiction of the nativity in ice. The girls approach the manger scene along with the sheep and shepherds.
| | |
| --- | --- |
| The ice figures portrayed the nativity scene with the animals, the shepherds, and the kings. Brenda shows the scale of the sculptures as she stands by one of the shepherds. | |
Index
2007