The Maligne Canyon
July 25 , 2008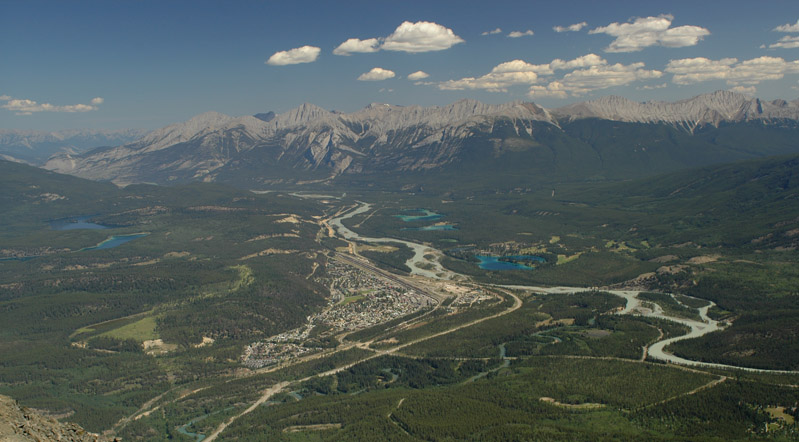 After descending from Whistlers Mountain, from which the above wide view of the Jasper area was shot, we drove through Jasper to locate our Bed n' Breakfast for the night and then headed out the Maligne Lake Road. Follow the Athabasca River north of town, and you may see the bridge where we crossed.
| | |
| --- | --- |
| | We had heard a lot about the Maligne Lake Road, so we wanted to see what was out there. |
Looking closely above, you can see where the bridge crosses the Athabasca River from the main road, Hwy 16, that parallels the river. You can see pieces of the road as it stretches eastward toward the high mountains. The Maligne Canyon is probably about at the right edge of this view.
| | |
| --- | --- |
| We stopped to have a look at the Maligne Canyon along the way. A rushing stream roars through an amazingly deep narrow cut in the rock. I was surprised to be able to catch a rainbow in the spray from this tall waterfall down in this crack in the earth. | |
It reminded me of the Lichtensteinklamm Gorge we saw in Austria. Maligne is pronounced Mah- leen' and comes from a priest who was an early explorer and lost all his gear crossing the river that feeds the gorge. He called it Maligne River (Evil River).
| | |
| --- | --- |
| | The stream that fed these violent torrents through the narrow cut in the rock was a beautiful stream flowing through the forest. |
Further upstream it was characteristic of the many beautiful streams and rivers we saw on this magnificent road.
We drove on down the Maligne Lake Road and it was absolutely magnificent with clear running streams along the road and majestic mountains towering over us. The mountains were skirted with a forest so green it almost seemed to glow. I wanted to stop every few feet for a picture.