Jasper to Cardston
July 29, 2009
We left Jasper about 9 am for a fairly long trip for the day. We had chosen to travel to Cardston, Alberta to stage for a second visit to the Going-to-the-Sun road tomorrow.
| | |
| --- | --- |
| | The road south from Jasper along the Athabasca River was now more familiar, but it hadn't lost any of its magic. The rushing river, green forest , and dramatic mountains are hard to beat. |
| | |
| --- | --- |
| These views are about 20 minutes south of Jasper as we headed south on Hwy 93, the Icefields Parkway. | |
| | |
| --- | --- |
| | Of great fascination to us were the dramatic snow ledges on tops of some of the mountains. This one was in the setting of a glacier stretching from mountain to mountain as seen below. This is about an hour south of Jasper. |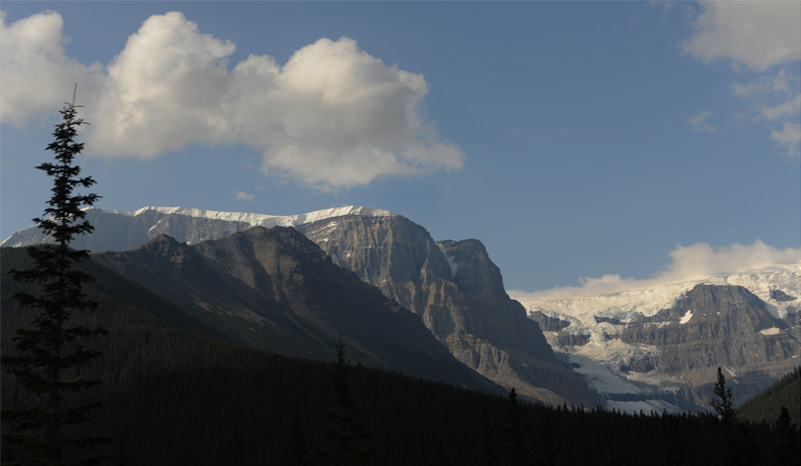 | | |
| --- | --- |
| Just a little over an hour south of Jasper we began to get views of the Columbia Icefield over the forest. | |
| | |
| --- | --- |
| | We approached the area of the Columbia Icefields along the wide, gravelly Sunwapta River. |
| | |
| --- | --- |
| We are still traveling alongside the Sunwapta River, but it is very small since it has its origin in the Athabasca Glacier which you can see as the low white ice sheet. The lower part of the terrain is dominated by the huge heaps of gravelly debris from the moraines of the various glaciers. | |
| | |
| --- | --- |
| | This was our closest approach to the Athabasca Glacier as we drove past. It crawls across the valley and there are at least three other named glaciers up on the mountains as part of the Columbia Icefield. We had explored more here on our glacier walk. |
We stopped at "The Crossing" for a snack. It is the only place on the Icefields Parkway where you can buy gas, and we found on the way up that the price is exorbitant. We carefully filled up in Jasper for the return trip. The mountains were different from the ones further north, and very interesting.

I went to the car to wait for the others to finish shopping, and I certainly didn't mind the wait with the view I had -- it is shown below.
Coming down one of the mountains about 15 minutes south of The Crossing, it appeared that the entire valley was covered by the river, with multiple small islands in the braided flow. I think all those streams belong to the North Saskatchewan River.

The road did find a way around all those streams, and now there is a large single flow. But there appears to be a sizable river joining in on the left below, so this may be the place where the Mistaya River joins the North Saskatchewan.
The view of the three glaciers below is something I remember vividly from the 2008 trip.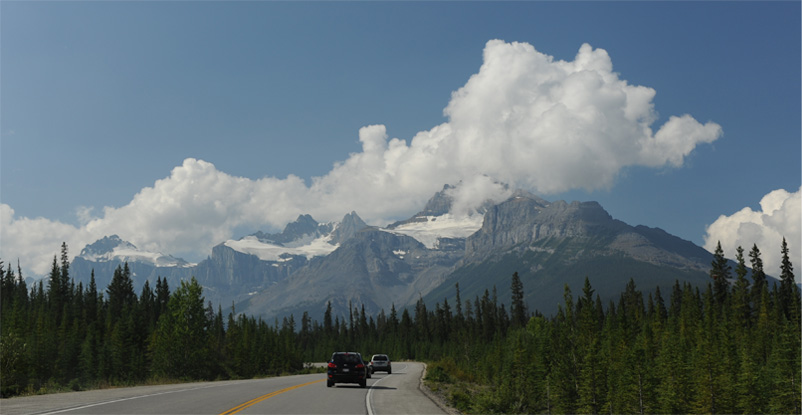 | | |
| --- | --- |
| | For several miles you are in view of this magnificent setting with the three glaciers above. The area is Mistaya Canyon and Howse Pass. |
| | |
| --- | --- |
| This is one of the Waterfowl Lakes. | |
| | |
| --- | --- |
| | This is Crowfoot Glacier. |
Index
2009