From Glacier Park to Missoula, Montana
July 30, 2009
We had had a full day on the Going-to-the-Sun Road with a visit to the Hidden Lake overlook above Logan Pass and an enjoyable time along McDonald Creek. It was now time to travel southward to Missoula to stage for our flights out tomorrow.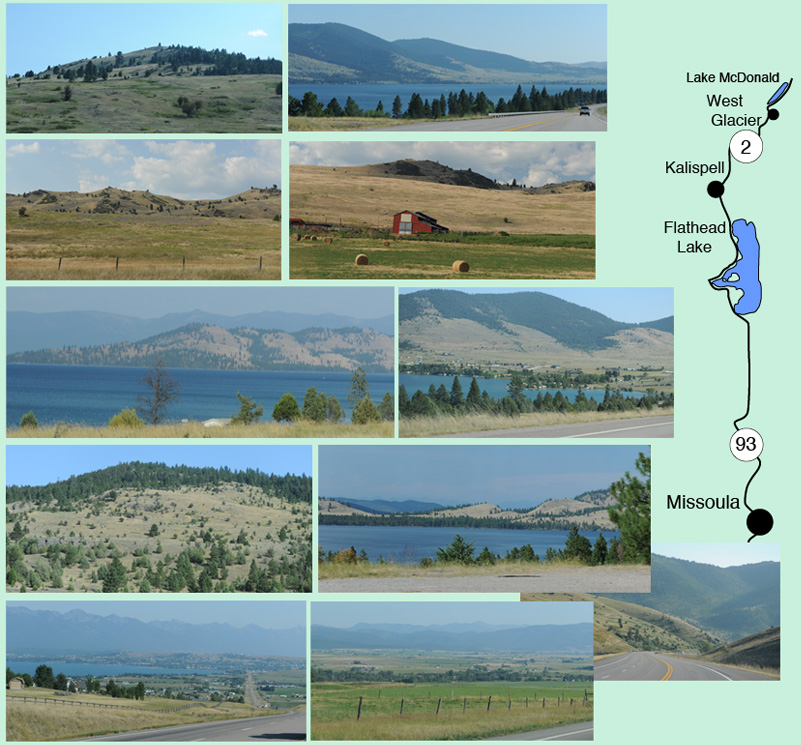 We had a pleasant drive along the west side of the Flathead Lake, stopping for supper in Polson on the south shore of the lake.
| | |
| --- | --- |
| | My fond memories of Montana contain images of grassy mountains dotted with trees and the big open sky, and this drive renewed my acquaintance with such terrain. |
| | |
| --- | --- |
| The drive along the Flathead Lake gave the added beauty of the large blue lake. | |
From Missoula, Montana to Salt Lake City
July 31, 2009
| | |
| --- | --- |
| | We had spent the night at the Hawthorn where we had stayed upon arrival in Missoula, so we were just a mile or so from the airport. We dropped everyone at the terminal and returned the rental cars. Then all the guys got on their laptops as we waited for our flight. |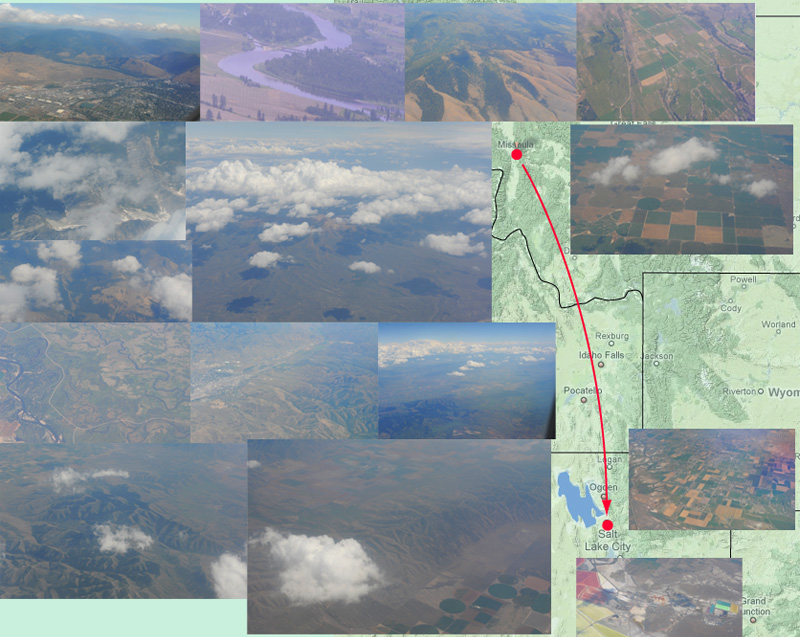 We had a smooth flight from Missoula to Salt Lake City. The above collage of views along the way are in chronological order if you look at each row left to right and then drop down one row. Starting at upper left, we lifted off from Missoula, which is in a bowl surrounded by rounded grassy mountains. The Clark Fork River runs through Missoula. We lifted over the rounded mountains and flew above a big flat valley with clearly defined fields as we headed southward. We flew over some fairly high mountains with snow patches in Idaho, and I liked the view of the cloud shadows on the mountains. Then we overflew a dryer area with circular irrigation patterns for many of the fields. In the third row down we flew over an area where many steam channels meandered over the land. Then we flew over mountains with an eroded look with wide valleys between. The fourth rows shows the wrinkled-looking mountain range and when we passed over it we found the circular irrigation patterns again. As we approached Salt Lake city we saw ponds with bright colors where the salt water is evaporating. We saw rectangular fields give way to suburbs as we approached touchdown at Salt Lake City.
The flight of Jeff and family to New Orleans left earlier than our flight to Atlanta, so we gathered at their gate for a snack before we parted company. I wanted to get a shot of Elyse, Jordan and Ashleigh with their backpacks.
| | |
| --- | --- |
| | We taxied out with a clear view of Salt Lake City, which brought back memories of our 2005 trip to this area. |
| | |
| --- | --- |
| The scenery north of Salt Lake City is always a bit surreal and lacking in color, but just after liftoff we recognized the causeway leading to Antelope Island, which we enjoyed visiting in 2005. | |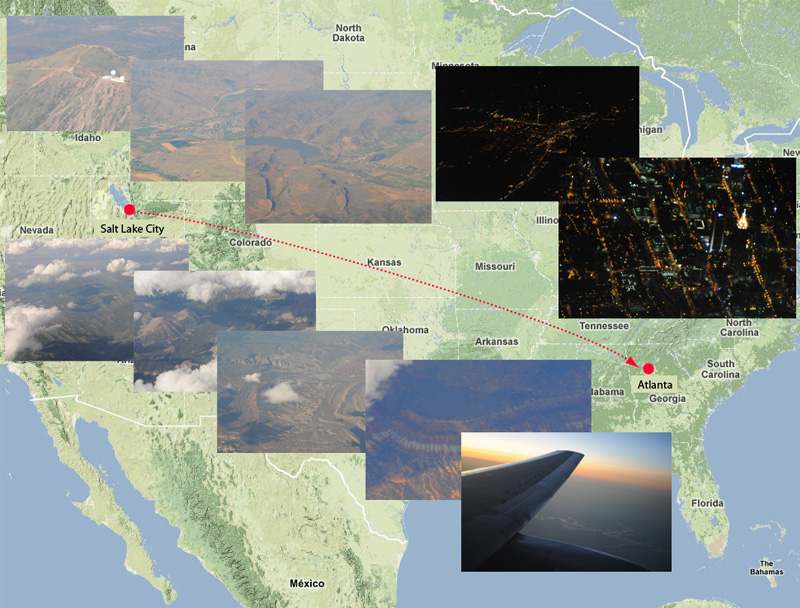 We had a smooth flight from Salt Lake City to Atlanta, and as always my nose was pressed to the window, watching the terrain below. Seeing the country from the air is always a reverie for me. Just after making our turn to the east we passed over an observatory on a mountaintop, then I watched a town in the valley with a patchwork of fields around it, then another town by a lake or reservoir. All these were fairly close to Salt Lake City. The series of pictures at the bottom of the picture above were probably over Colorado, with nice mountains and then a colorful desert region. We passed through sunset and then I watched the city lights below. The last image is of the lights of downtown Atlanta and northward past Colony Square. We arrived at about 11 PM Atlanta time.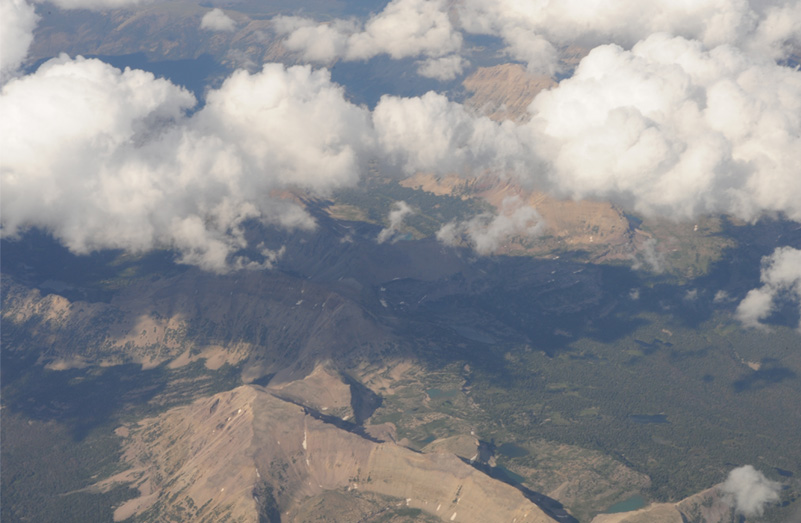 This was one of my favorite views on the trip. It was about 15 minutes after liftoff from Salt Lake City, so presumably these are mountains of eastern Utah or western Colorado.
This view is about two minutes later. Viewing such beauty is one of the rare times I just sit back and relax and praise the Lord for the experience of seeing the world.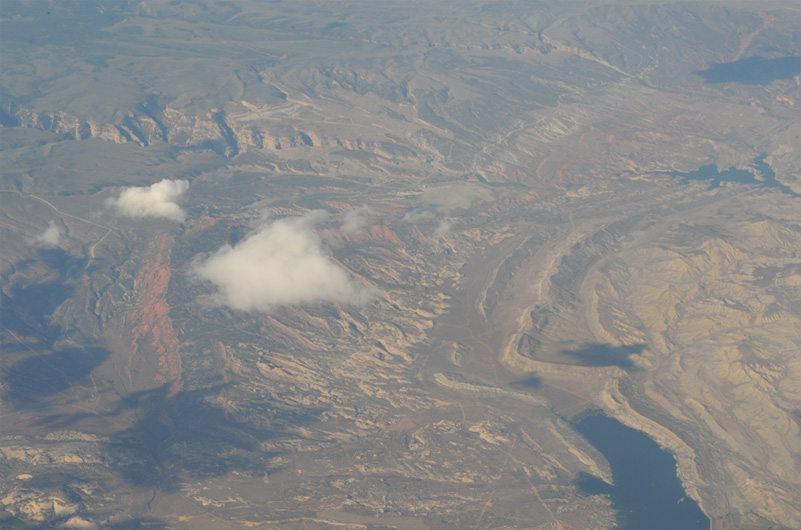 Another fascinating view was an apparently desert area which had two lakes or reservoirs in it. It was about 20 minutes from SLC, so still in the Colorado area, I'm guessing.
| | |
| --- | --- |
| | I watched a large lake complex as we passed into a colorful sunset. It was 9:30 pm Atlanta time and we had been flying two hours. |
| | |
| --- | --- |
| I was surprised to get this clear a view of downtown Atlanta as we passed over. Right at the bottom of the picture about 2/3 of the way over is the Westin Peachtree Plaza. | |
We were pleased to be home and were praising the Lord for a safe and enjoyable odyssey with our whole family.