Maligne Lake Road
July 25, 2009
| | |
| --- | --- |
| | When we left Maligne Canyon, we drove along Maligne Lake Road, a beautiful road lined by forests and mountains. |
| | |
| --- | --- |
| Along this road a short distance, we started seeing this long rock mountain ridge in the distance. Along the bottom of that ridge is Medicine Lake. | |
This is our view upon approach to the north end of Medicine Lake. It was quite different from our view on the 2008 trip when the light was behind us to give a mirror effect. The road we are about to travel is along the base of the forest on the other side of the lake. The lake is nestled at the base of this long rock ridge.

Medicine Lake is an unusual lake in that it is connected to an underground river and to a cave system which is connected to the Maligne Canyon. We read that the lake occasionally empties completely into the underground river system.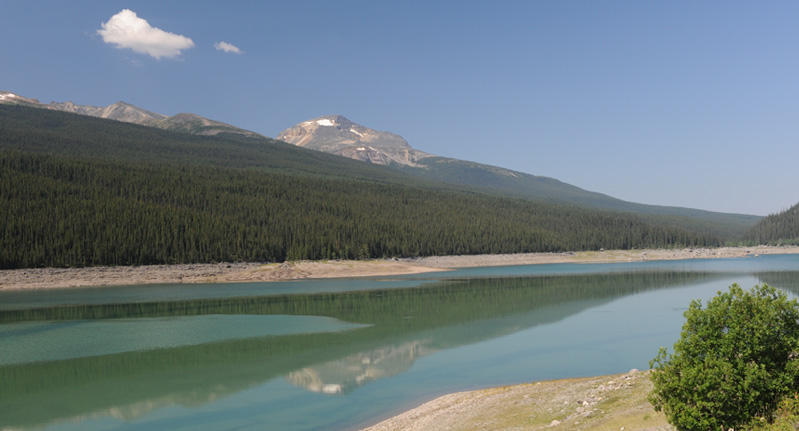 This year the lighting conditions were such that we got the mirror effect on the far side of the lake looking back as we passed along the base of the rock ridge.

At left is the system of streams that feed into Medicine Lake.
| | |
| --- | --- |
| A short distance down the road, sharp-eyed Mark spotted a black bear down in the woods and we stopped quickly. He jumped out and got a shot of the bear headed across a grassy area. | |
| | |
| --- | --- |
| | The bear was quite cooperative as he passed across a couple of open grassy areas. He even let Mark get a few wildflowers in the frame with him. |
| | |
| --- | --- |
| By this time we had collected a crowd and had a full-fledged bear-jam on the road. | |
Even with the crowd of admirers, the bear just continued across the stretches of meadow on the hillside. In looking back at the picture, I realized how close we are to Medicine Lake because you can still see the end of the rock ridge along the lake in the upper right of this picture.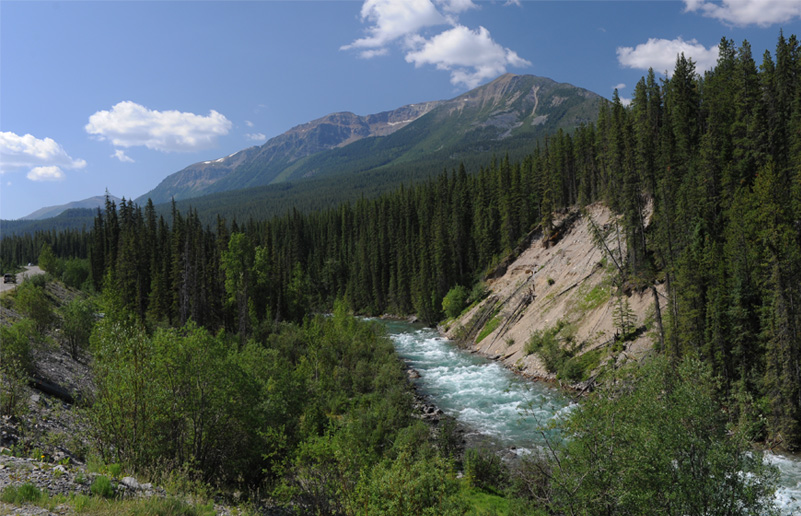 We felt very blessed to be able to drive along the Maligne River for some distance, despite its evil-sounding name. It may well have seemed "maligne" to the French priest who lost all his pack animals trying to cross it in the 19th century, but to us it seemed quite benign.

In the view below, the river is widening out as we get close to Maligne Lake.
We reached Maligne Lake and had a picnic lunch very close to where the Maligne River runs out of the lake. It runs out very smoothly, just skimming the top off the lake. The top of the lake is the warmest part, so the river continually takes off the warmer top of the lake and leaves the lake at an almost uniform 4 C or 39 F temperature, according to our boat tour guide last year.
| | |
| --- | --- |
| | We went around to the end of the lake to the boatdock where the tour boats leave and got our tickets for the Maligne Lake tour. Elyse and Jordan play around with the big stuffed bear at the gift shop while we waited. There was a lot of activity there since they rented canoes and kayaks as well and there were folks that were going out fishing and hiking. |
Index
2009