Cory Attends Thrashers Game as Special Gift
November 17, 2010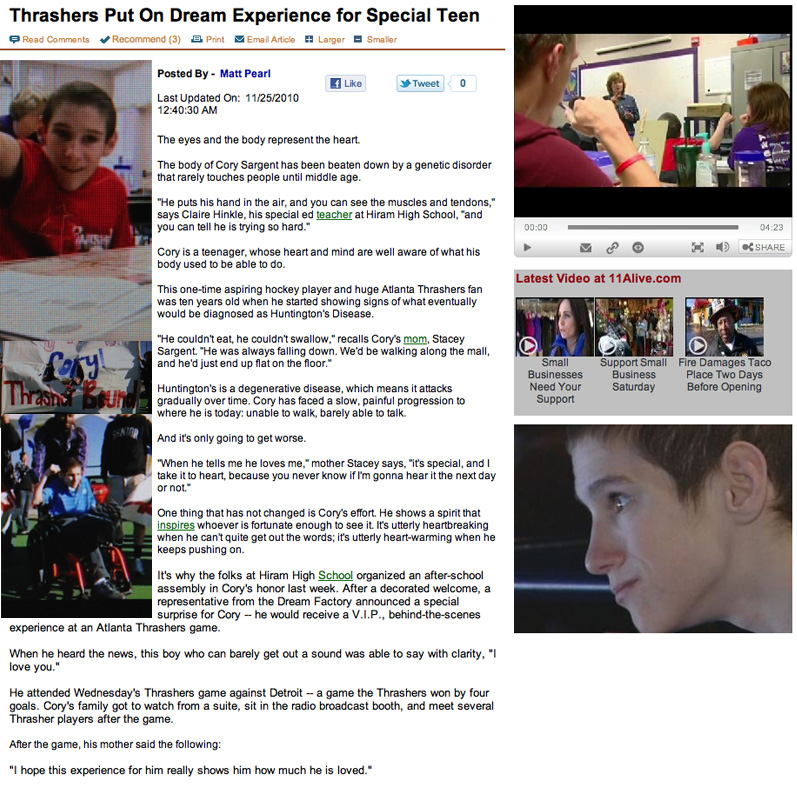 It was great to see that Cory was able to have this special experience. We got to spend time with Cory at Thanksgiving 2001 when he was about six years old and again in 2006 at our Independence Day gathering when he was still able to get around well. We got to see him occasionally when he was with Brenda's Aunt Dorothy Watts, who is his great-grandmother. The last time we saw him was at Dorothy's birthday celebration this year.

Atlanta's Channel 11 News covered the story of Cory's experience at Hiram High School and the school's celebration of this special event for Cory.

Cory's Huntington symtoms have gotten so severe that he has difficulty speaking and eating, and can no longer walk. His teachers have high praise for his efforts and spirit in the face of the extreme difficulties. Corey's mother Stacy tells of his early love for hockey and his ambition to become a hockey player. His love for the sport was encouraged at an early age. Since he still loves hockey, that became a plausible focus for a special gift to him. Hiram High School had a special assembly on Friday, November 12 and made up a banner for him to crash through, celebrating the gift of a trip to a Thrasher's hockey game. Always showing a good spirit, Cory bursts through the banner and seemed to greatly enjoy the whole process. Great-grandmother Dorothy Watts and Mother Stacy were on hand to enjoy the celebration with Cory. Everyone gathered around for a special cheer for Cory. When he reached the Thrasher's hockey game on Wednesday, November 17, he got to go behind the scenes to the announcers area and technical booths. He got to watch his sister ride the zamboni on the ice. He got a surprise visit from the Thrasher team mascot. Cory appeared to enjoy being within pecking distance of the team mascot and seemed to celebrate everything to the fullest. Cory got to meet team members and really be a celebrity for this occasion.
| | |
| --- | --- |
| | The entire process was very well done and very impressive. It was a great gesture and special treat for a very brave young man. |
Index
2010