Ketchikan, Alaska
August 4, 2011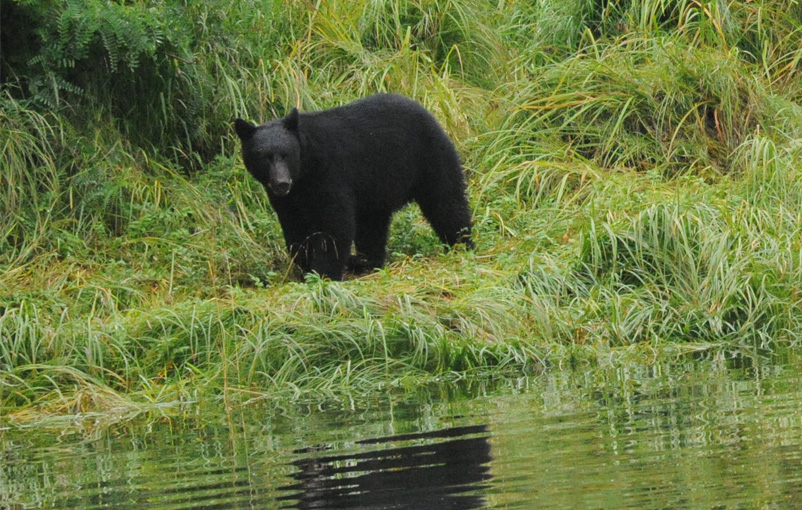 A rainforest walking tour brought us into the country of the large black bears that inhabit the Ketchikan area.
| | |
| --- | --- |
| | We docked in Ketchikan at about 11am in fog and steady rain, which we were told was typical for the town. Our bus driver called this the "banana belt"of Alaska because of the warm Japan current which ends about 30 miles north of here. |
A floatplane taxied in to the dock as our ship tied up, a common sight for these Alaska ports. Note the other floatplanes tied up along with the ships. As at other places, a couple of other large cruise ships were in dock along with the Zuiderdam.
| | |
| --- | --- |
| | There are just a few rows of houses scratching up the steep rock slope and only one road leading from town inward. According to our tour driver, it connects to a tiny valley that they wanted to utilize, but is extremely steep and impassable with any ice or snow. Fortunately, they rarely get snow and ice here. He said a typical January temperature was 35F and if they got a dusting of snow it was usually gone by mid-afternoon. He told a tale of a rookie bus driver who tried to get up that steep road on snow and only made it half-way. |
Our driver said he had lived in Ketchikan for 37 years, and he was very helpful with local color. He quipped that they had 27 nice days a year, 240 days of rain, and the rest cloudy and overcast.
We headed out on a walk through the rainforest of the Ketchikan area. It was mostly on elevated walkways through the wet forest. I was pleased that I had bought a sturdy Ketchikan raincoat, and I put it to good use this afternoon.

The forest floor beneath us was covered with lush green foliage and a number of streams. There were lots of these bushes with red berries, and lots of ferns.
| | |
| --- | --- |
| | The red berries caught your eye because everything else was green and wet. Most of the limbs were covered with a thick green moss. |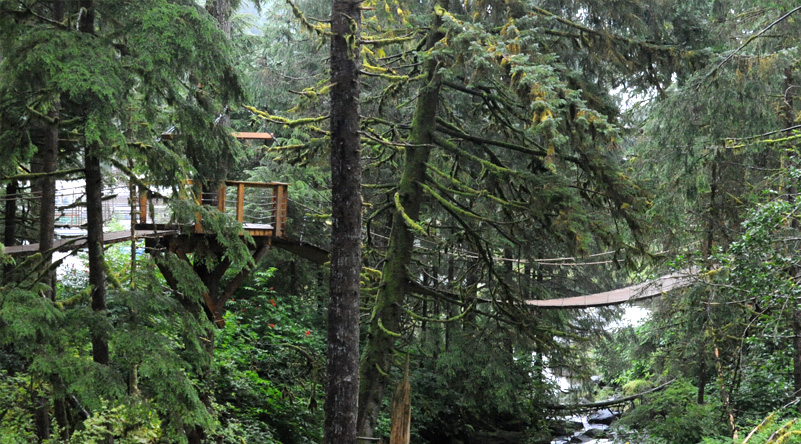 | | |
| --- | --- |
| | The suspended skywalk was tied together with a lot of hardware, so it seemed secure even though it swung a bit when we walked on it. Our views were mostly close ones, but occasionally we got a distant view as through an enchanted forest. |

This low footbridge over a stream was the closest we got to the ground on our rainforest walk.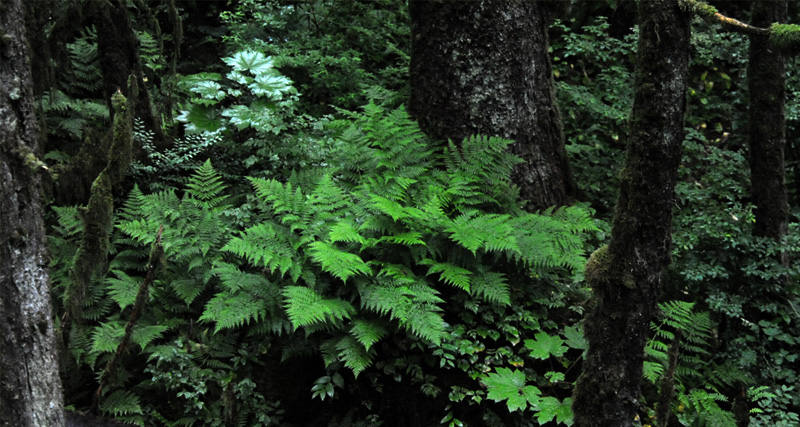 There were place where it did seem like a magical forest!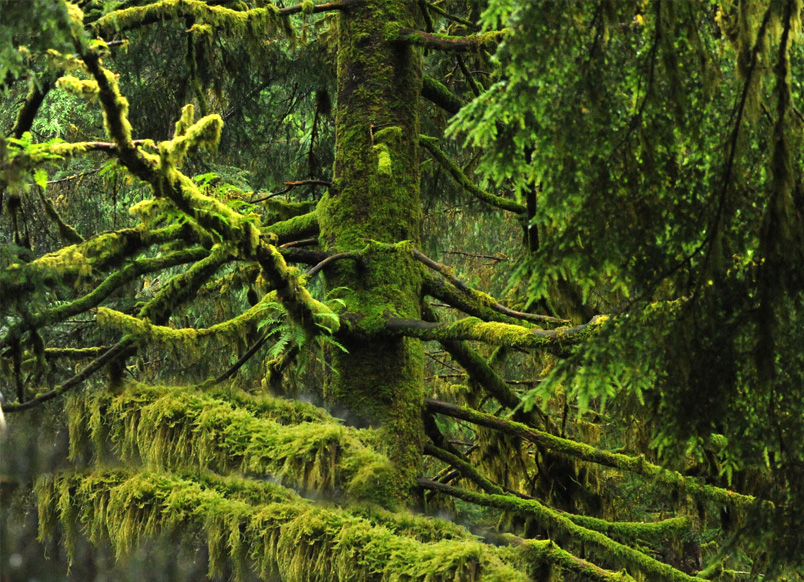 | | |
| --- | --- |
| | Even though the light level was low in most areas, there were places were the mossy trees seemed to glow! In other places they were dark and foreboding, adding to the impression of an enchanted forest. |
| | |
| --- | --- |
| We left the rainforest and traveled along a boardwalk beside a pond into which the stream entered. It was just below a salmon hatchery. This heron was looking for lunch along the bank of the pond. | |
| | |
| --- | --- |
| | This second heron seemed to be in a better fishing spot. He plunged into the water and came up with a small fish. I saw him miss twice, but this time he got lunch. |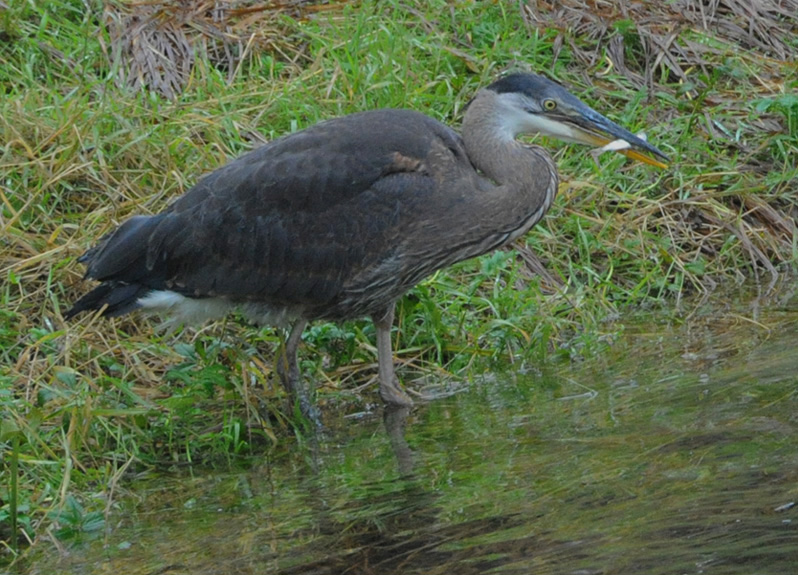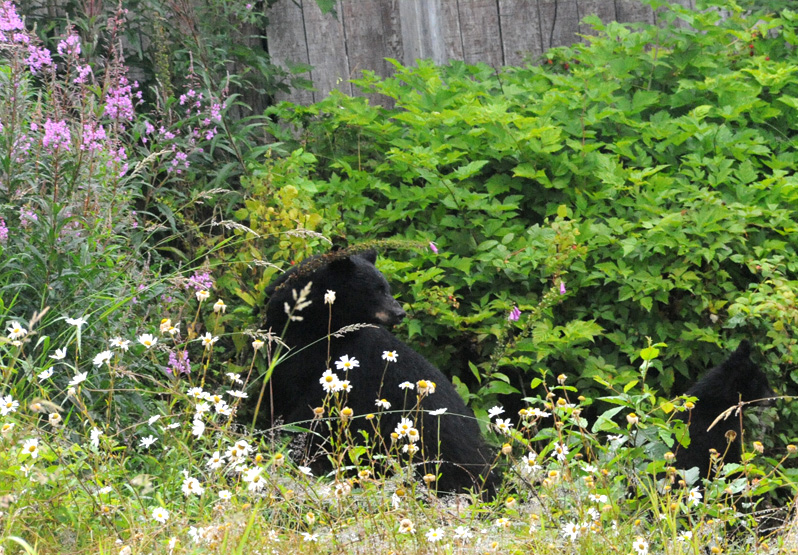 Walking alongside the pond, we saw this black bear and then its cub.
The mother bear was intent on eating some berries alongside a fence very close to some buildings and the road. But she was keeping an eye on her cub, and we decided not to try to get any closer.
| | |
| --- | --- |
| | We walked by part of the zipline which was an alternate way to explore the foggy rainforest. We had seen the zipline at a couple of locations along our skywalk exploration. |
We watched another black bear amble alongside a grassy pond.

I got this distant view of a bald eagle on a roof, but not any close views.
| | |
| --- | --- |
| Our walking destination was a kind of animal shelter and our first encounter there was with some caribou with attitude. They were keen on any kind of snack you could offer. | |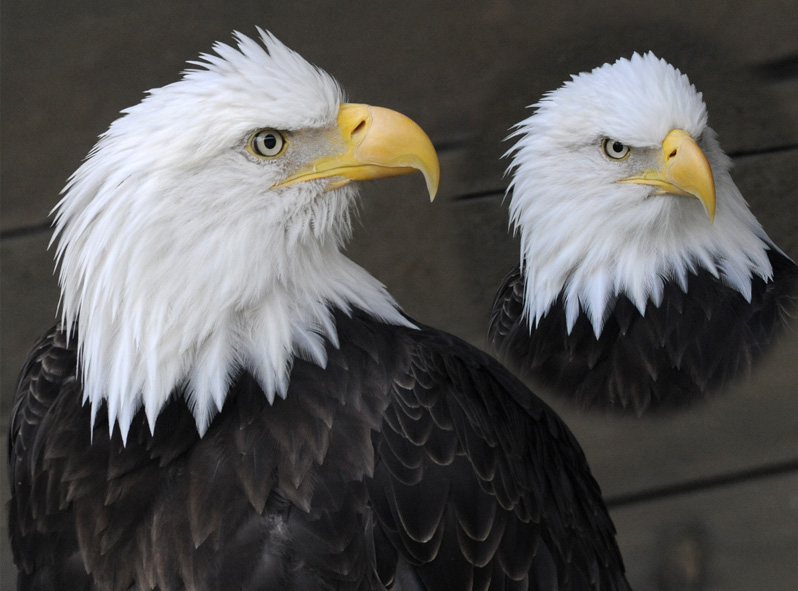 Next was a really angry-looking bald eagle. But, hey, I can understand! He'd rather be out soaring.
This owl seemed sort of curious about all these strange looking creatures walking in front of him.
| | |
| --- | --- |
| | We returned to the ship for our evening in Ketchikan and our last night on the Inside Passage. |
| | |
| --- | --- |
| Opposite the town across the waterway, there are just a few houses and docks along the edge of the water. Even this much blue sky is welcome in rainy Ketchikan. | |
| | |
| --- | --- |
| | Boating is very much a part of the way of life in Ketchikan and all along the Inside Passage. We enjoyed the view on this last night and headed back toward Vancouver. |
Index
2011
Inside Passage