Ketchikan, Alaska
August 4, 2011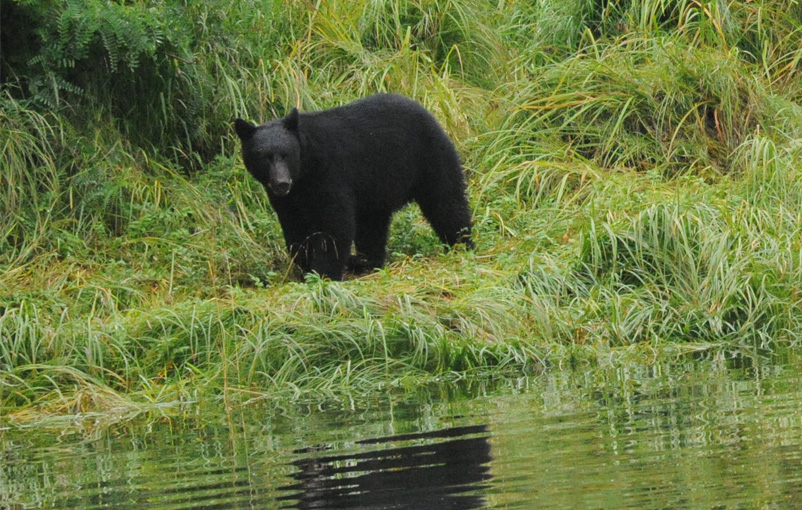 A rainforest walking tour brought us into the country of the large black bears that inhabit the Ketchikan area.
| | |
| --- | --- |
| | We docked in Ketchikan at about 11am in fog and steady rain, which we were told was typical for the town. Our bus driver called this the "banana belt"of Alaska because of the warm Japan current which ends about 30 miles north of here. |
A floatplane taxied in to the dock as our ship tied up, a common sight for these Alaska ports. Note the other floatplanes tied up along with the ships. As at other places, a couple of other large cruise ships were in dock along with the Zuiderdam.
| | |
| --- | --- |
| | There are just a few rows of houses scratching up the steep rock slope and only one road leading from town inward. According to our tour driver, it connects to a tiny valley that they wanted to utilize, but is extremely steep and impassable with any ice or snow. Fortunately, they rarely get snow and ice here. He said a typical January temperature was 35F and if they got a dusting of snow it was usually gone by mid-afternoon. He told a tale of a rookie bus driver who tried to get up that steep road on snow and only made it half-way. |
Our driver said he had lived in Ketchikan for 37 years, and he was very helpful with local color. He quipped that they had 27 nice days a year, 240 days of rain, and the rest cloudy and overcast.
| | |
| --- | --- |
| We left the rainforest and traveled along a boardwalk beside a pond into which the stream entered. It was just below a salmon hatchery. This heron was looking for lunch along the bank of the pond. | |
| | |
| --- | --- |
| | This second heron seemed to be in a better fishing spot. He plunged into the water and came up with a small fish. I saw him miss twice, but this time he got lunch. |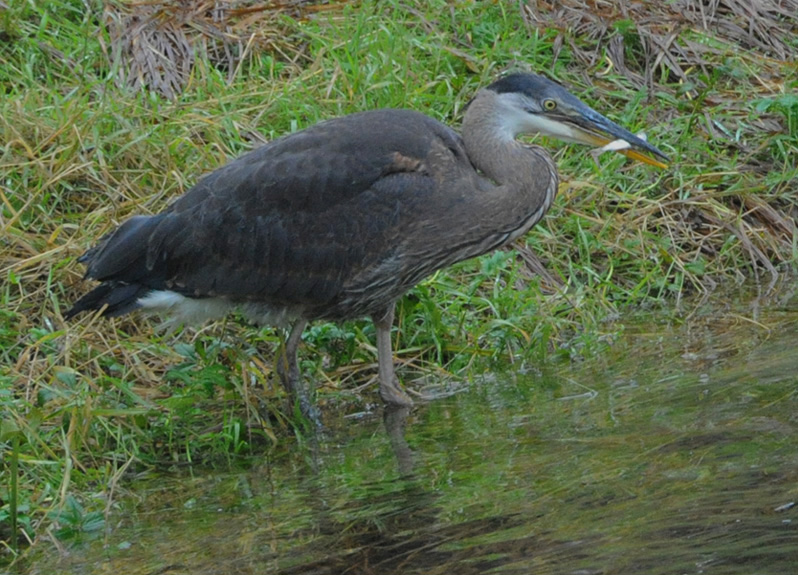 Index
2011
Inside Passage