To Pearl River
December 19-24, 2015
On Saturday, December 19, we drove down to Pearl River and visited briefly with Jeff and family before driving out to Abita Springs where we would spend Christmas week up until Christmas eve.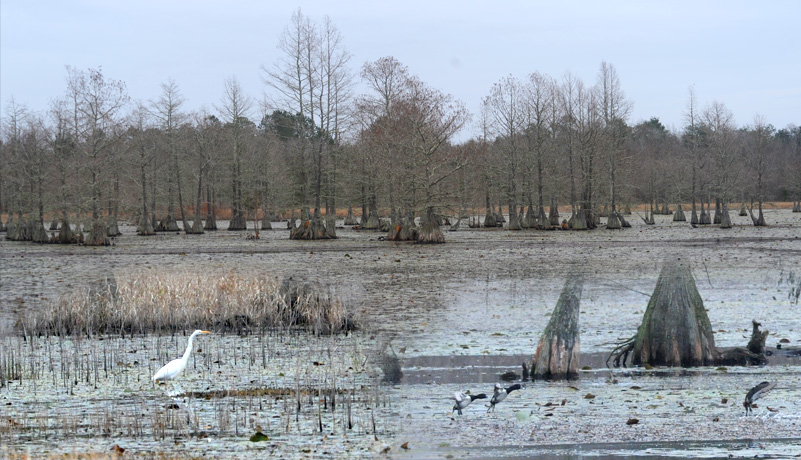 Hillcrest Lake Villas in Abita Springs are on this shallow lake with this collection of cypress trees. White herons and an abundance of ducks feed in the lake. There was also a sizable flock of Canada geese, but they left at daylight and came back at dusk.
A sizable flock of ducks feed in the shallow lake. Standing on the little dock, I could hear the gentle sounds of the ducks as they fed and the peeping of an abundance of frogs. It was a very peaceful place. The noisy geese had already made their departure for their grazing areas.

At night the geese were very noisy as they returned about dusk. We could hear an occasional sound from the geese all through the night.
| | |
| --- | --- |
| Jordan and Ashleigh came out to spend the night with us on Wednesday night. They enjoyed just playing around together and we enjoyed their company. This picture of them with Rod is on the deck of our upstairs villa. | |
We enjoyed going to breakfast with the girls at the small Abita Cafe in Abita Springs. It was quiet enough that we could just sit and talk for a while. We headed back to Pearl River about noon. We had not spent a lot of time in Abita Springs this time except for the nights. There was shopping and lots of activities around Jeff and Darla's, and it essentially rained all week so everything was indoors.