Georgia Tech BSU Alumni Gathering at the Gudger's
October 21, 2017
Many thanks to Frank and Babs Gudger for hosting the October gathering of the Georgia Tech BSU alumni group at their home. This is part of the group, centered around our guest of honor, Sue Woolf, about the time we broke up after an enjoyable lunch and time of fellowship. Babs and Frank Gudger, Carl and Gayle Shaw, Carol and Aubrey Bush behind Sue. Merle Griffin, Henry Fields with Betty in front of him beside Sue. Andy Blake is in back with Sam Shelton in front of him and Brenda Nave in front of Sam. Then Charles Griffin and Bill Norman. Our last big gathering was at Hiawassee where you can find links to earlier gatherings.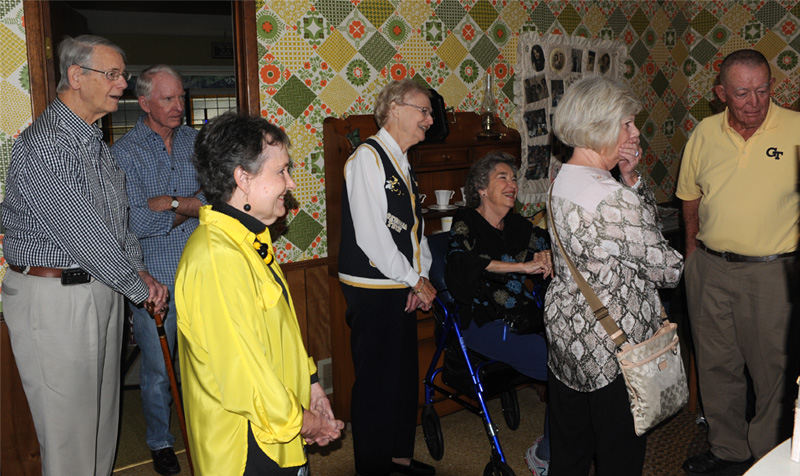 The joy of this group in being together was obvious from the arrival of everyone. We jumped right into conversations. Jane Strange and Don Hammonds on the right are the only ones not in the top picture.
We do have our traditions, and one is to honor Sue Woolf. She and Warren were our mentors in the BSU and we have loved them from the mid to late 1950's. We are always delighted to see her. One large recent gathering was for her 90th Birthday.

Another tradition is to of course promote Georgia Tech and bad-mouth the University of Georgia. Babs makes our statement for us.
| | |
| --- | --- |
| | Betty, Merle and Carol. |
| | |
| --- | --- |
| The arrival of Leland and Jane Strange a bit earlier. Aubrey, Carl, Babs and Sam. | |
| | |
| --- | --- |
| | Most of the guys gathered in Frank's "Tech Room". We did attract a few of the ladies. |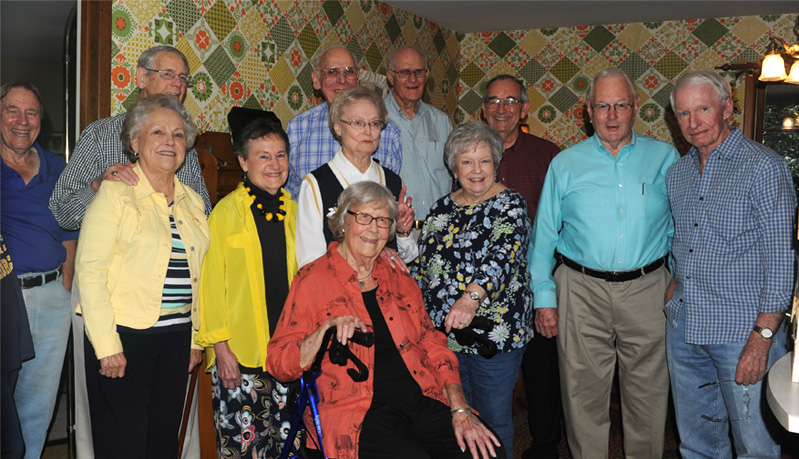 One more group before we part company. Having met together for over fifty years, we always look forward to the next gathering.
Index
2017